Las Vegas is known more as a place to let go and relax than to get active. Unless, we're talking about one of their notorious pool parties.
But the Las Vegas valley is surrounded by amazing outdoor destinations. If you can get away from the city for a day or two during your Vegas vacation to see its surrounding landscapes, we highly recommend it.
But, even if you're bound to the Strip by loyalty or a lack of transportation, there are several places you can go to work off those extra alcohol and dessert calories and have a little fun in the process.
1. The Canyon Ranch Rock Wall
Hidden on the 3rd floor of The Palazzo tower is the Canyon Ranch Spa + Fitness, a fitness center that features a 40-foot rock climbing wall open to the public.
You have to get there by way of the guest room elevators. (Just tell the security guard on duty you're going to Canyon Ranch).
Climbing the rock wall at Canyon Ranch is available in 25- and 50-minute sessions, and climbing shoes and helmets are provided.
Like many spas on the Strip, Canyon Ranch also offers drop-in fitness classes, as well as some unique fitness experiences, like isometric strength training and vibration platform training, which uses mechanical vibrations to provide a lot of workout in a short amount of time.
Location: 3355 S Las Vegas Blvd #1159, Las Vegas
2. Circus Circus Adventuredome
The Adventuredome at Circus Circus may be better known for its high-octane rides, like its two roller coasters and mind-scrambling Chaos, but the indoor amusement park has several more active things you can do.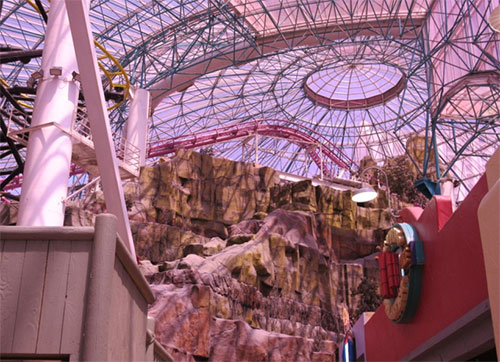 Two Bank Heist Laser Challenges – Crack the Code and Escape the Vault – challenge you to race through (or around) a series of lasers as fast as you can.
The Xtreme Zone offers rock climbing and bungee jumping.
And Highway 66 is a mini-bowling game that keeps you on your feet.
Then, when you finish getting your blood pumping and your heart racing, you can go get your brain scrambled.
Location: 2880 S Las Vegas Blvd, Las Vegas
3. Vegas Indoor Skydiving
Indoor skydiving is a full-body workout that burns upwards of 300 calories in a half-hour session. So, if you want a little thrill with your workout, Vegas Indoor Skydiving is the place to go.
Located just off of the Strip, Vegas Indoor Skydiving flight packages start at $75, which includes equipment rental and personalized instruction.
Packages also include only two to five minutes of flight time, though, which isn't going to work off that Krispy Kreme you had on the way.
Still, if it takes being in Vegas to bust you out of your comfort zone and get you to try something new, this is a lesson you can carry back home with you to your local indoor skydiving park.
Not everything that happens in Vegas has to stay there.
Location: 200 Convention Center Dr, Las Vegas
4. Brooklyn Bowl
If bowling is your thing, the Las Vegas Strip only has one place to do it, but it's a place with a lot of style.
The Brooklyn Bowl is half bowling alley, half concert venue, and all hipster paradise.
While bowling isn't permitted during every performance, it is during some of them, and the bowling area is outfitted with plush leather seating and views of the stage.
You'll need reservations to get in most days and times, and prices vary depending upon the day of the week and the concert schedule.
Location: 3545 S Las Vegas Blvd, Las Vegas
5. Level Up
At the southern end of the Strip, inside the MGM Grand, Level Up bills itself as a tech-savvy adult playground.
It's not as scandalous as it sounds.
Really, it's just a big techy arcade bar with standards like pool tables and big-screen TVs and some upgraded additions like Giant Connect Four, Giant Jenga, Giant Pac-Man and QuadAir Hockey.
There's even an arm-wrestling table if you want to show off your brute strength or drunkenly challenge another patron on a whim.
Aside from the arm wrestling, the activities at Level Up are unlikely to get you sweating, but they will get you on your feet more than most bars.
Location: 3799 S Las Vegas Blvd, Las Vegas
6. Apocalypse Las Vegas
A little off the Strip, but well worth the four-minute Uber ride, Apocalypse Las Vegas offers one of the most unique experiences you are likely to encounter in the city.
First, you'll be tactically equipped and train with real Special Ops military veterans on weapons, breaching techniques and tactical room clearing.
Then, your Operative Team Leader will guide you through a 40k sq. ft. neighborhood that has been infected by a virus and overrun with zombies.
Think Resident Evil without the comfortable barrier of the TV screen.
A serious adrenaline rush.
Location: 4375 S Valley View Blvd #G, Las Vegas