Las Vegas is a city that has become almost synonymous with its vices. For good reason.
It did actively court the reputation. Since the launch of its "What Happens Here, Stays Here" ad campaign in 2003, Las Vegas is largely regarded as a place to go and let your lusts run rampant.
But you can't sin all the time. And the city's notoriety as a bastion for debauchery overshadows the other thing Las Vegas has in spades –  breathtaking natural beauty.
Las Vegas Desert
Visitors who have gotten their impressions of Las Vegas from glitzy and glittering TV spots are likely to be in for a surprise when they descend upon the city by plane or roll in on the interstate.
The introduction is an immediate and stark reminder that Las Vegas really is a valley in the desert of the American southwest. Rocky mountains surround the city.
And it doesn't take too many miles on any road out of town to end up in the middle of nowhere.
With all of those natural features pressing in at Vegas's edges, it's easy to get away from the city's neon and glitter for a day. And, despite what Instagram might have you believe, Red Rock Canyon isn't the only place you can go just outside of Vegas.
Here are five active day trips that that will get you out of the city and still give you plenty of time to hike, explore, or get on the water.
Active Las Vegas Day Trips For All Activity Levels
1. Valley of Fire State Park
The Fire Wave is the most famous feature of Nevada's Valley of Fire State Park, but it's far from the only thing to see there.
The colors at Valley of Fire are nearly as bright as those at Red Rock Canyon, but you'll find more of them. Since it's further from Vegas, you'll also find fewer tourists willing to make the trip.
Further doesn't mean far, though. Valley of Fire is less than an hour's drive from Las Vegas by car (just be sure to account for that Vegas traffic and the city's seemingly never-ending road construction).
And the state park is easy to find. Take an exit off of Interstate-15 and a two-lane road carries you straight to it.
Cool fact: Valley of Fire was Nevada's first state park, dedicated in 1935.
2. Lake Mead
Lake Mead is a striking, impossibly blue body of water that fits so well into the landscape around it, you'd never imagine it's man-made. It is, though, a natural byproduct of the building of Hoover Dam.
It's also an interesting sight to see because it's one of a handful of places in the world where you can witness the heavy proof of climate change in a tangible way.
For the past twenty years, drought has caused a steady decline in the water levels in Lake Mead, and it's visible on the canyon walls. That white ring you'll see running around the lake's edge is where the water used to be.
The water level drop has been so significant, in fact, that boat ramps had to be relocated to deeper parts of the lake. And the remnants of towns that were submerged when Hoover Dam was completed and Lake Mead formed appear like ghostly shipwrecks out of the dwindling water.
Still, you can boat on Lake Mead. Jet ski. Paddle board.
There are also plenty of hiking trails, ranging from easy to strenuous. You can even hike to Hoover Dam.
Lake Mead's main recreation area lies just over an hour east of Las Vegas.
Plan ahead and order the America The Beautiful Pass to get you into Lake Mead with no additional fees.
Cool fact: The Arizona-Nevada state line runs right through Lake Mead along the Colorado River. If you paddle to the center of the lake, you can be in both states at the same time.
3. Mojave National Preserve
All of Las Vegas is in the Mojave desert, but you would never know it by staying on The Strip.
If you want to get a real feel for the Mojave and its fascinating land features, no day trip from Vegas will give you a truer experience than a visit to Mojave National Preserve.
The preserve is big – 1.6 million acres big – so you won't be getting out and exploring all of it. But you can make the drive to and through Mojave National Preserve in a day, with a little time left over for crawling through the lava tube or over the sand dunes.
If you do want to get out and explore, don't wing it. It's a big place, and sites like the lava tube are miles off of the main road. Plan ahead. This official park map is the best place to start your planning: Mojave National Preserve Map
You'll also want a four-wheel drive vehicle of some sort to get to the most off-road places (the lava tube.)
And a springtime trip is ideal, because the Mojave blooms with desert wildflowers come spring.
Cool fact: There is an abandoned wellness center on Zzyzx Road that you can legally explore. If you like dilapidated ghost towns, it's not to be missed.
4. Lake Las Vegas
At the eastern edge of Las Vegas, butting up against Lake Mead Recreational Area, lies another man-made lake – Lake Las Vegas. The lake is part of a housing community and luxury resort, but it does provide some opportunity for fun if you want to spend an afternoon on the water.
Kayaks, paddle boards, pedal boats, and water pedal bike rentals are all available to the public. There's also an aqua park (new as of 2019) that's basically a mad series of climbs and bounces, while the cable park brings high-octane wakeboarding to the lake.
It's not nature, but you will get your active groove on. And, if you're still up for it afterward, Clark County Wetlands Park right next door has miles of hiking trails.
Cool fact: President Barack Obama spent three days at Lake Las Vegas in 2012 to prepare for his first debate against Republican presidential candidate Mitt Romney.
5. Red Rock Canyon National Conservation Area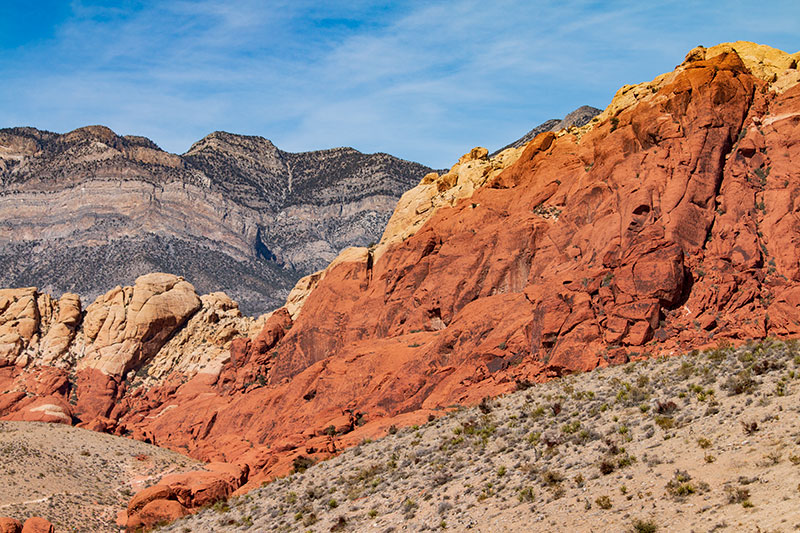 Red Rock Canyon is undoubtedly a sight to see. The rocks really are that red, and it offers stunning views, good rock climbing, and even better hiking.
It also touches Las Vegas's western edge, making it one of the quickest protected natural areas to get to from Las Vegas. It takes just 30 minutes by car from The Strip.
Unfortunately, time saved getting to Red Rock can be lost stuck behind cars on the single loop drive or trying to find parking in the parking lots. Busy times of year, like summer and winter holidays, can be truly overrun.
That's why we've put Red Rock last on our list. If you can hit it at just the right time, it's unbelievable. If you get there when everyone else is there, though, be prepared to experience very little serenity.
Plan ahead and order the America The Beautiful Pass to get you into Red Rock with no additional fees.
Cool fact: Tracks of small dinosaurs have been found in Red Rock's sandstone. But their locations aren't disclosed to the public.
How About Death Valley, Joshua Tree And The Grand Canyon?
Death Valley and Joshua Tree National Parks are too far from Las Vegas to visit in a single day. Don't let their reasonable distances from Vegas fool you.
Just driving through these parks with a handful of stops can take a full day.
While, technically, it's possible to do a day trip to the Grand Canyon from Las Vegas, if you want time to actually see or do anything you'll only get as far as Grand Canyon West.
Grand Canyon West is not part of the national park system. It's privately owned and operated, and more expensive than going through the national park.
There are some impressive views at Grand Canyon West, but it doesn't offer the majestic view of the Grand Canyon as you've seen it in the media. You'll be getting a very small bite of a very large pie.
Things To Know When Getting Active In Las Vegas
Most of the hikes around Las Vegas are both sandy AND consist of rocky climbs. Good hiking shoes with gusseted tongues are recommended. Even in summer.
The heat and lack of humidity in Las Vegas are no joke. Carry plenty of water (at least one gallon per person). Drink one liter every two hours. Even in winter.
Carry back-up water in your vehicle. At all times when you're driving anywhere away from civilization around Las Vegas
Avoid mid-day and afternoon hiking. Heat exhaustion and heat stroke are the most common weather-related illnesses in Nevada. When the sun is directly overhead is the best time for a break.
Pay attention to how you feel. Most desert trails don't have shade. It can be hard to find a place out of the sun if you do start to feel unwell. If you're not top-notch, it's best to sit it out.
Nevada deserts have several venomous creatures, including scorpions, rattlesnakes, and black widows. Just don't stick your hands and feet where you can't see.