A couple of years ago, Shawna and I went on a three-week road trip through some of the most popular national parks in the country. The Grand Canyon, Yellowstone, Rocky Mountain, just to name a few.
Of the parks we visited, Badlands National Park was the most surreal. Dramatic landscapes that changed with each passing mile.
Seemingly boundless vistas that disappeared into the bright blue sky. Wildlife that had little fear of humans and knew the land belonged to them.
Badlands is simply a marvel of nature. Or maybe dozens of marvels of nature all crashed together in 400 square miles.
Plenty of user-submitted travel sites say you can drive the road through the park in just a few hours. DON'T DO THIS.
Plan at least a whole day (unless you're hiking, then plan for more than one day) and prepare to stay until sunset. You'll have to contend with a lot of pronghorn on the drive back if you stay in Rapid City, but it's well worth it.
Here are fifteen photos that capture our experience in the Badlands.
1. The Pinnacles Overlook
We entered Badlands through the Pinnacles Entrance, and the first stop we made was for a bighorn sheep strolling down the middle of the road and right past the driver's side window.
Our second stop was at the Pinnacles Overlook. This overlook provided a quick, stunning introduction to just how vast Badlands truly is.
2. Shadows Across the Land
There are points along the main drive through Badlands where the land just opens up, and you can imagine what it might have been like to happen upon this landscape hundreds of years ago.
I'm not sure I've ever seen the sky so big (and I lived in Texas).
3. Topography
Looking out at the Badlands landscape from up close and above gives you a better idea of the distinctive terrain you see from the overlooks. (Luckily, the drive through the park makes it easy even for the most hiking-averse of visitors.)
Note the green mesas in the midst of all that arid stone.
4. The Road
Like many national and state parks in the United States., you don't drive up to the natural features in the Badlands; you drive amongst them.
5. Yellow Mounds
Badlands National Park looks like a lot of The American West. Multiple shades of brown with some red thrown in for good measure.
The Yellow Mounds at Badlands are the most notable exception. And they are mighty notable.
6. Red Stripes
The Badlands signature design. In some areas, it's more prominent than others.
7. Short Walks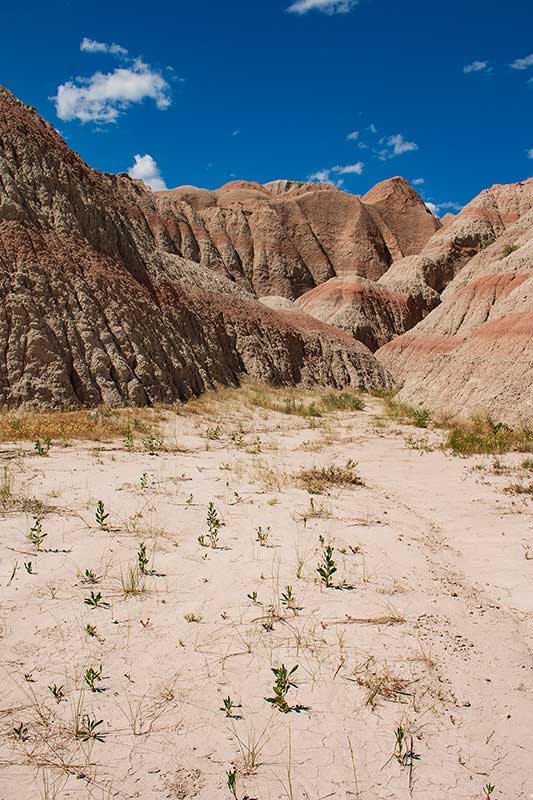 You could spend days hiking Badlands National Park and not see all it has to offer.
But just stopping the car and taking a few steps off of the beaten path can give you an entirely different perspective.
Just be careful where you walk (see #8).
8. Rattlesnakes!
The good news about Badlands' prairie rattlesnakes is that they stay out of the sun, so daylight provides some safety.
These signs aren't posted everywhere in the park, though, so when you see them, heed them. This is especially important around installed boardwalks, where rattlers like to seek shade.
9. Bison
The only bison we saw in Badlands were from a distance. We were warned by a passing car on our way out of the park that one was standing in the middle of the road ahead, but by the time we got there (the speed limit is appropriately low and we drove even slower so as not to hit a bison) it was at least a hundred yards off the road.
Interesting note: When I took this picture the rainbow was so light I didn't even notice it, but the camera picked it up.
10. Bighorn Sheep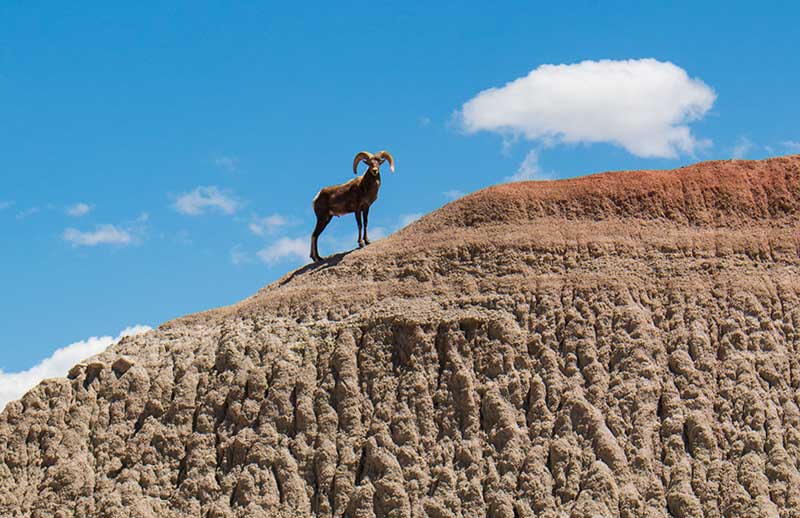 There were a lot of cars parked along the side of the road when this bighorn and his companion were making a show on a mountaintop.
They even had a short head-butting row. To say I was excited is a bit of an understatement. It was an amazing thing to see.
11. Pronghorn
From the road, we spotted several pronghorn resting in the shadow of a mountain. When I stepped to the edge of the road to take a photo, I heard a rustle in the nearby grass.
That's when this young pronghorn emerged from its resting spot in the shade of a tree.
12. Prairie Dogs
There's a place in Badlands National Park called Roberts Prairie Dog Town. It's billed as a reliable spot to see prairie dogs.
I can't attest to whether it is or isn't a good place (we never made it there), but I can tell you there was a stretch of the Badlands drive where we saw prairie dogs along the side of the road for literal miles. No special stop required.
13 & 14. Bighorn Sheep Redux
Before we went to the Badlands, we read to drive out of the park on Sage Creek Rim Road just before sunset for the best chance of seeing wildlife. Wow, was that amazing advice.
After driving through a number of sheep grazing along the sides of the road, we were able to find a spot in the parking area and really take it all in. There were just so many of them – including more than a dozen lambs – and they were all RIGHT THERE.
You can also see those sunset hues starting to crawl across the land.
15. Sunset
The other reason to stay in Badlands until sunset? This glow. We went in early summer (late June), which gave us striking blue skies, a radiant gleam over everything, and a nice long day.
We needed every bit of it. But this moment when the sun softened was pure magic, and it's my favorite picture of the day