Got someone active and outdoorsy on your gift shopping list? Whether you're shopping for a mountain biking enthusiasts or a snowshoer, there are a few gift options out there that are perfect for all outdoor lovers.
It doesn't matter the occasion – Christmas, birthdays, or some other special day – the gift ideas below are sure to be a hit with outdoorsy men and women like me.
This page contains some affiliate links. If you click through and make a purchase, I'll earn a commission, at no additional cost to you. Read my full disclosure here.
1. America the Beautiful National Parks Pass
Hands down my favorite thing to both give and receive is the National Parks pass. This thing gets you into more than 2,000 federal recreation sites across the USA.
This is a really great gift for outdoor families because it covers park entrance for a driver and all passengers in a personal vehicle at per-vehicle fee areas or up to 4 adults at sites that charge per person (kids 15 & under get in free).
And, it's valid for an entire year.
Buy it at:
2. JENGA National Parks Edition
It's a classic family game night game with an outdoors twist. Yup, it's the same JENGA that you know and love, except each block features a fun fact about the national parks.
One cool thing about this game is that a portion of the sale proceeds goes to the National Park Foundation.
So, if you know someone who is an outdoors enthusiasts who also enjoys games, then this is no-brainer gift idea!
Buy it at:
3. Chaco Wrist Wrap Bracelet
Any outdoorsy person knows what an iconic brand Chaco is, so even though this bracelet is purely for aesthetics, it will be appreciated.
Heck, I wish someone would gift me a couple of these (hint, hint, mom, if you're reading this).
This is a one-size fits all sort of bracelet. And it features the Chaco Gecko buckle for secure fit.
Buy it at:
4. REI Co-op Membership
If you happen to know of an outdoorsy person who doesn't already have this membership, then it will be one of the best things you can ever buy for them.
While people who have an REI store available locally benefit the most from this, you can order most of the stuff that REI carries online.
That's right, even if there is no REI in your area you can still benefit from having this membership.
The best things about it? Special member sales and discounts, cash back on your purchases for a year-end dividend, and supporting a brand that truly values the outdoors.
5. Backcountry.com Gift Card
Probably my second favorite outdoor retailer (after REI) is Backcountry. And most outdoorsy people that I know love them as well.
Sure, a gift card is a bit boring, but I would be stoked if someone gifted me one of these.
The Backcountry Gift Card is the perfect gift for anyone who loves the outdoors and wants access to the best selection of premium brands and products.
Gift cards are redeemable on the following Backcountry sites: Backcountry.com, Competitivecyclist.com, Steepandcheap.com, and MotoSport.com. And – it never expires!
6. Black Diamond Storm 375 Headlamp
Every outdoors person needs a good headlamp…or two. Plus, these things can be used around the house, working on the car, and all sorts of scenarios.
There's lots of headlight options out there, but I recommend this one because it's got a nice compact design, updated user interface and a multifaceted optical lens design that saves battery life.
This thing is ready for all the adventuring. And, bonus points for it being IP67-rated to be waterproof and dust-proof; the sealed housing withstands immersion over 1 m for 30 min.
Buy it at:
7. Patagonia Backslide Beanie
If you're gift shopping during the cold weather season, then this beanie from Patagonia is sure to be a hit.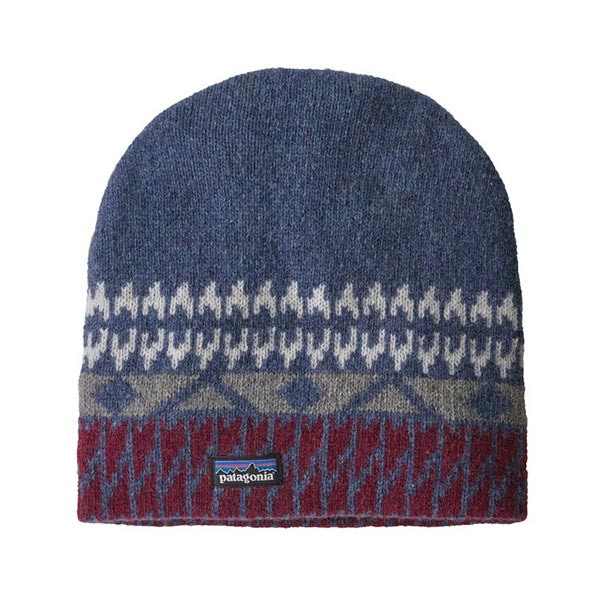 One of the top outdoor brands, Patagonia is known for making high quality outdoor clothing and this beanie is one of those items.
It's a unisex one-size fits all hat, so it should be perfect for any outdoor lovers on your gift list.
This beanie is made of a warm recycled wool/recycled nylon blend – so avoid if you're shopping for someone with a wool allergy. Otherwise, it's a top choice.
Buy it at:
8. Buff Reversible Polar Multifunctional Headwear
One of my favorite pieces of outdoor gear is my Buff – in fact, I own five of them in various colors and sizes because they are so multi-functional and awesome.
Buff makes a lot of different headwear options, and this one is intended for colder weather. It's reversible fleece and microfiber sides give you warmth for any day – outdoors or indoors.
I love this thing because it's so versatile – wear it as a scarf, face mask, neck gaiter, or balaclava. And you don't have to worry about it getting stinky due to the polygiene anti-odor treatment that prevents growth of bacteria.
In addition to a chafe-free design, this thing features UPF 50 protection!
Buy it at:
9. REI Gift Card
Like the Backcountry.com gift card option, getting that outdoorsy man or woman on your gift list a gift card to REI is an awesome idea.
And yes, gift cards are still pretty boring, but you can score some awesome gear at REI. That makes this gift card the perfect present for any occasion.
Plus, they have stuff for all ages. You can even get outdoor gear for your pup!
10. Hydro Flask 24oz Standard Mouth Water Bottle
This right here is another one of my favorite pieces of outdoor gear. In fact, I own several Hydro Flask bottles.
What's so great about Hydro Flask is that it keeps your cold drinks ice cold, and your hot drinks piping hot. It has tough, food-grade 18/8 stainless steel is BPA-free and resistant to bacteria and odors.
The narrow design is easy to hold and fits in most car, bike and stroller cup holders and water bottle cages. And it easily will fit into the beverage pocket on a backpack.
Buy it at:
---
While that by no means exhausts the available gift options for the outdoors enthusiasts in your life, I think that these are some of the best options that appeal to most outdoorsy people.