The Giordano Libero 1.6 Men's Road Bike is a great entry level road bike option if you're on a budget and want to get a good quality road bike under $400-$600 (
,
new prices vary by retailer
). And it definitely has a better color scheme than the
women's Giordano Libero 1.6 road bike
.
This page contains some affiliate links. If you click through and make a purchase, I'll earn a commission, at no additional cost to you. Read my full disclosure here.
If you've looked over my list of the best value road bikes for the money, then you might be interested in getting a bit more information on this particular bike. To help you out, and answer any questions you may have on this men's road bike, I want to share some of the features and what you can expect from this bike.
What I Like and Dislike About This Bike
If you are unsure if biking is going to be your thing, then this men's Giordano Libero road bike makes a great starter bike for the money. It has a low, affordable price and delivers some good quality and a decent. And really, that is all you need to determine if this is going to be a hobby for you or not.
The bike has an attractive design, but is only available in the red/white color combo. And it has some decent components that get the job done, however they are not the best parts that money can buy. At this price point, you get a pretty decent value for the money. If you've ever ridden a more expensive bike, then you will immediately notice that the brakes on this one just aren't as precise and the shifting is not quite as easy. That being said, the brakes and shifters work fine, but they're just not as great as they could be. Granted, at a higher price, you can get a top of the line bike with all those top of the line components.
When you get the bike. you will love how easy it is to put together. And, even better, it is so incredibly lightweight. I find this weight of bike perfect for climbing hills. Once it's all put together the first time, you'll probably notice that one of the Derailleurs is a bit off. This is a common issue with this bike. That's why you need to take it to your local bike shop for a quick tune-up BEFORE you go out riding it. Once adjusted, the shifting should be a breeze.
With just a little riding, you will start to notice some definite wear on the tires. That's because they are cheap, bottom-of-the-line tires. Definitely upgrade those if you get the chance and have the funds. Cause you don't want to be 15 miles from home with a flat or anything, right?
And it's no secret that the seat on this bike is very uncomfortable. If you have padded bike shorts, then you will definitely want to wear them. Or just replace the seat if you prefer.
For the style and components that you get in this bike, you really can't beat the value – especially if you're on a budget. That makes this a great road bike for students.
The ride is pretty smooth and the frame feels solid when you're on it. You can get up to a reasonable speed without feeling like you're not in control, so that's good. Basically, this is a quality bike for entry-level roadies who don't want to spend a lot but still get a quality bike. All of the problems with it are minor ones that you can either live with or cheaply fix on your own. Either way, it is still cheaper than buying a more expensive bike.
One tip I have is to get some cheap tape to go over the white tape on the bike. Why? Because the white get VERY dirty VERY quickly. And it's a shame to have such a good looking bike with dirty tape.
Click Here For More About This Bike On Amazon
More About The Giordano Libero 1.6 Men's Road Bike
How do I know which size frame to order?
If you are new to buying road bikes, then choosing a frame size can be confusing. Fortunately, the manufacturer of the bike makes it easy by breaking down the suggested frame size based on the height. Here is the info on the frame sizes:
Small is 50cm/20" fits riders 5'1″-5'8″ with a stand over of 28″-30″
Medium is 56cm/22" fits riders 5'8″-6'0″ with a stand over of 30″-32″
Large is 61cm/25infits riders 6'2″-6'5″ with a stand over of 33″-35″
What is the weight of the Giordano Libero 1.6 men's road bike?
All together, the weight for this bike is about 23 pounds. It is a great choice for a lightweight bike and you'll be thankful for that if you ride a lot of hills. Or, if you take your bike on public transportation.
Does the Giordano Libero 1.6 men's road bike come equipped with 'quick release' for the seat and wheels?
Kind of. The seat on the bike is not quick release, but the wheels on the bike are quick release.
Do the tires have presta or schrader valves?
Out of the box, the tires on this bike have schrader valves. However, if you change out the tires then you can use presta valves.
Can you put clipless pedals on this bike?
Yes, if you need to put clipless pedals on the Giordano Libero 1.6 men's road bike, then you can do so. And it is pretty simple process. To remove the current pedals, just spin them around from the crankset.
How much assembly is required when the bike arrives?
As you may expect, this bike comes in pieces in the box. Though that may sound troublesome, it is actually not that bad. You'll have to assemble the pedals, the front wheel, the seat and handlebars to the rest of the frame. Give yourself about 20 to 30 minutes to get it together. Just an allen wrench and an air pump is all that is needed. Of course, the bike will need the gears tuned-up once you get it together, which is something that you can do on your own or take to a local bike shop. Expect this to cost around $70 or so, depending on your area.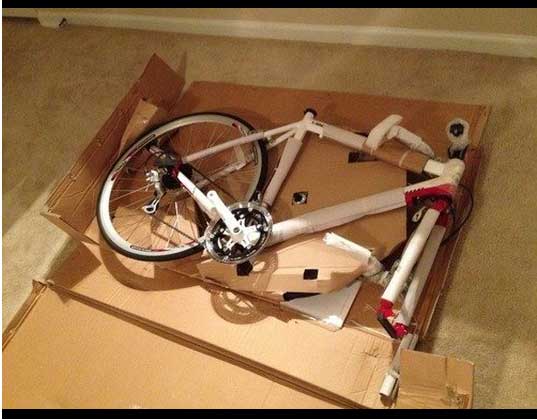 How do you shift the gears on the Giordano Libero 1.6 men's road bike?
This bike has the Shimano 2300 integrated shifters , which are sometimes called "brifters." If you're not used to riding a bike with these, then shifting the gears might not come easily to you. Fortunately, it is easy to do. If you look on both sides, then you will notice that you can move to a larger ring by pushing the brake levers towards each other. And if you want to move to a smaller ring, then you can just click the little switch on the inside of the brake hood. For most riders, this will be right next to your thumb.
Want to shift up? If so, this is how you to it on this bike: on the left side, push the brake lever to the right; on the right side, click the thumb switch.
Want to shift down? If so, this is how you do it on this bike: on the left side, click the thumb switch (probably twice); on the right side, push the brake lever to the left.
---
Complete Specifications for Giordano Libero 1.6 Men's Road Bike :
Frame – 6061 Aluminum with replaceable derailleur hanger
Fork – High Tensile Steel
Headset – Steel Threadless 1 1/8"
Handlebar – Alloy 42cm c/c
Stem – Uno Alloy Threadless 1 1/8" 100mm x -10 deg
Shifters – Shimano ST2300 STI 16 Speed with integrated brake levers
Rear Derailleur – Shimano RD2300
Front Derailleur – Shimano FDAO50
Brakes – Alloy Side Pull Front and Rear
Crank – Prowheel Alloy Arms 170mm 42/52
Bottom Bracket– VP Cartridge Square Taper
Cassette – Shimano CS HG30 8 Speed 11-30
Rims – Vitesse Alloy 700c 32 hole High V-Profile Silver
Hubs – Alloy 32 hole front and rear with quick release
Tires – 700×25 Black Road Clincher
Saddle – Velo Road Steel Rails
Seat Post – 27.2 x 300mm Alloy Black
Pedals – VP Plastic Body with Alloy Cages
Seatpost Clam – Alloy Black
Weight – 24lbs
---