Though Oslo, Norway doesn't have any of those fjords that you've no doubt seen countless photos of online, they do have some great options for cycling and hiking. If you're going to be in the area for a while, then you should definitely check out the list of hiking and biking trails on the visit Oslo website.
So, you're in Oslo and ready to be physically active. Don't head right for the trails or bikes. First, I HIGHLY suggest that you start your day with some fresh juice at Joe & The Juice. You can find it on the main strip as you make your way towards the palace (it will be on the right side of the stretch if you're facing the palace). It's easy to miss, so look it up on G Maps before you set out. (note: there are other locations in the city as well but this one has the longer open hours) This places makes great fresh juice and hands down the best fresh green juice that I've ever had. Perfect to sip on before you head off for a full active day.
You don't have to be a serious cyclist to have a good time biking around Oslo. The city itself is great for cyclists as there is not a lot of traffic on the roads and there are lots of streets where automobiles are not allowed. There are also several nice parks that you can bike to while in the city. And biking down the main thoroughfare is a fun time as well.
There are tons of city bike rental stations scattered throughout Oslo. These City Bikes have a cost of 100 NOK, which was around $15 USD when I was there. Yes, riding one of these will scream "tourist!" to everyone, but this is definitely the cheapest way to go if you're not doing some serious cycling or need to save the cash since the cost of food in Norway is astronomical. Check out the photo below so that you know what to look for if you're interested in renting a bike for the day. Or, get a better road bike from Viking Biking – it will cost you a little more (125 NOK to 200 NOK depending on your rental period), but it's overall a better choice if you plan on spending the day on a bike. You get the helmet and a poncho included in the price. The only downside is that you have to pick up from the bike shop – just a single location.
My two favorite places in Oslo for getting out and being active were the Botanical Garden in Tøyen and the Vigelandsparken Sculpture Park in Frogner. You can also do a fair amount of biking and walking in and around the Akershus Fortress grounds. The botanical garden is up on the eastern side of the city and the sculpture park is in the opposite direction. If you only have time for one, then definitely go with the sculpture park and do it on bike. The ride there takes you through some great little neighborhoods and the park itself is quite large and very cool. If you need food or such at the park, there is a cafe and also a free water fountain. Bathrooms are beside the cafe and cost 10 NOK to use.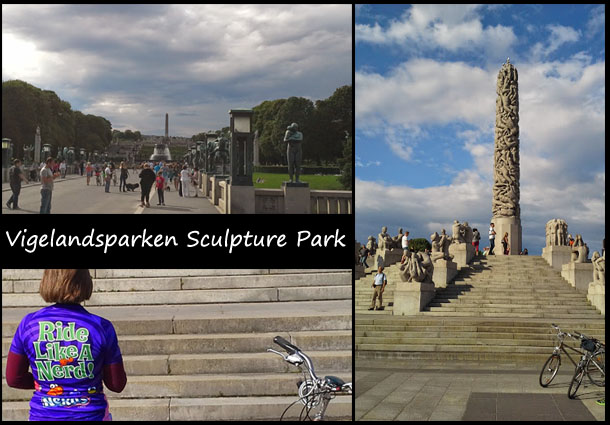 Big shout out to Garrett and the team at Brainstorm Gear for outfitting me in that cool Nerds jersey. If you're an 80's child like me and have mad love for this design, you can find it and all their other cool jerseys on their site here. I used my jersey two of the three days that I was in Oslo and it was great for me. I burn easily in the sun, so I had to add some UV protection sleeves, but I just happened to have a pair that matched the color of the jersey…sorta.
If you like the jersey but find yourself on the fence when it comes to adding yet another novelty bike jersey to your collection, then stay tuned. I plan on putting this Nerds bike shirt to the test over the next couple of months as I'm in Europe without a single other jersey in my backpack. I'll let you know if it holds up to the abuse that I'll be giving it or if your money is better spent on a giant pack of Nerds.