If you're looking for a unique camping experience, then consider heading to Israel and taking in the sights surrounding Khan Be'erot. You'll be spending the night in the heart of a crater with unpolluted views of the night sky.
Sure, it's not your traditional camping trip, but the photos below will likely inspire enough wanderlust to get this one on your bucket list for sure. Plus, there are some amazing observation points nearby and plenty of hiking, so you won't run out of things to do in this desert.
We've got 17 photos from photographer Dafna Tal showcasing the beauty you can expect from a camping trip in this beautiful area of Israel.
17 Photos Showcasing The Beauty Around Khan Be'erot, Israel
The Ramon Crater, locally known as Makhtesh Ramon, is the world's largest erosion cirque. This is a type of crater that's not formed by meteor or volcano like other craters but is in fact formed over millions of years by the process of erosion.
The Crater measures 40m in length and between 2 to 10km in width. It's shaped like a heart which seems very fitting for this natural wonder that lies in the hear of the Negev Desert.
There are several different ways to explore Ramon Crater including by jeep, by bike, by camel or by horse. Regardless of which option you choose, the breathtaking views will imprint upon your memory for life.
One of the highlights inside Ramon Crater is known as the "sawmill". This sandstone hill is made of thousands of quartzite prism-like rocks once formed by volcanic eruption.
There is a boardwalk you can walk along to get a closeup view of these prisms without damaging them.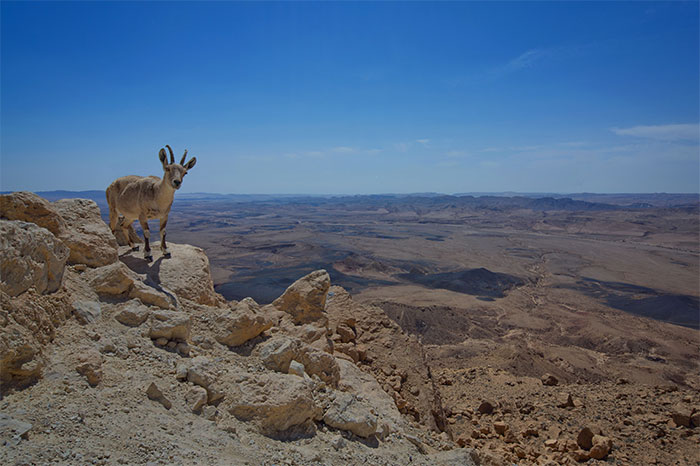 The around Ramon Crater may seem remote but its home to some desert wildlife that's worth seeing like the Nubian Ibex. They can be seen scaling the hillsides and some, like this female, are curious when they come across a person in their path.
The male Nubian Ibex is a more solitary animal. They often only join the female herds during breeding season but otherwise they remain alone or form transitory bands with other males.
Yotvata Hai-Bar Nature Reserve is on a mission to help save endangered species many of which were once native to this region but are no longer found here. These are Addaxes, also known as a white antelope, which can be found in the Sahara but are critically endangered.
The Addax is extremely well adapted to desert habitats and can survive without water for extended periods of time but are quite slow and therefore make easy prey. An interesting thing to note is that herds are led by the eldest female.
Not too far to the south is the Red Canyon, a popular local hike that features trails with different levels of difficult.
It gets its name from the phenomenon that occurs when the sun hits the canyon walls resulting in an intense reddish color.
It's worth dedicating a day to explore the magnificence of Timna Park. It covers roughly 15,000 acres of land, boasts some breathtaking geology, and has several activities to choose from.
Those feeling adventurous who want to see much of the park opt to explore it by bike.
The Mushroom is perhaps the most photographed geological formation in Timna Park. This hoodoo was formed over millions of years ago and has been gracing the pages of Instagram for the past decade.
King Solomon's Pillars are on of the parks most striking and well-known formations. An American archeologist gave the pillars their name back in 30.
Although there was little relation to Solomon at the time, in 2013 archaeologists did in fact find that copper mines in Timna date back to the time of Solomon.
The beautiful sandstone arches in Timna Park are like the ones you would see at Arches National Park in Utah and were formed under similar circumstances.
Areas of Timna were once mined for copper and archaeological remnants of past civilizations can also be found throughout the park.
Roughly an hour and a half south of Ramon Crater is the coastal town of Eilat. The drive in from the desert is striking as you see the waters of the Red Sea appear on the horizon juxtaposed against the mountains with their warm hues accented by the sun.
Eilat enjoys 360 days of sunshine a year on average so your bound to have a beautiful day!
Eilat is worth a visit if you have the time and after spending some time in the desert a dip in the waters of the Red Sea is always welcome. This resort time is particularly popular with visitors from Europe who come for sun and sand.
One of the most recommended activities in Eilat is a visit to the Underwater Observatory Marine Park – the only one of its kind in the world. There are two display halls submerged 12 meters underwater offering a view of the coral reef.
This Orange-lined Triggerfish is one of the many residents who call the Eilat Coral Beach Nature Reserve home.
The dolphins at Eilat's Dolphin Reef love to interact with human visitors. These dolphins are not kept in captivity and come and go as they please.
The reef is their home and they are open to receiving visitors.
---
Want more info on camping at Khan Be'erot? Here's the amenities of the campsite:
Lighting and electrical outlets
Restrooms and showers
Field kitchen
Drinking fountains
Barbecue and bonfire areas
And here's some ideas of what you can do/see nearby:
Take a jeep tour of the Ramon Crater
Visit the Mitzpe Ramon Visitor Center to learn the geological story behind the formation of this makhtesh, the largest of its kind in the world
See the only herd of alpacas outside of South America at the Alpaca Farm
Cruise one of the areas many bike trails
Hike through one of Israel's most striking and beautiful sites – Ein Avdat
Visit the seaside city of Eilat for some diving or snorkeling
all images by Dafna Tal, used by permission in conjunction with MWWPR