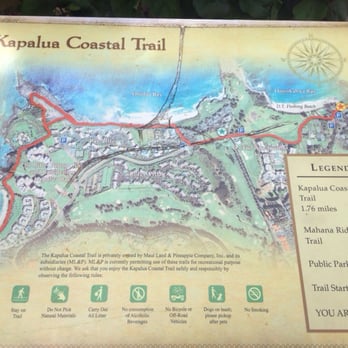 If you find yourself visiting Hawaii and staying on the island of Maui, then there is a great coastal trail in Lahaina that you can spend an hour or two doing while you're there. Before you start making plans though, remember that the sun is brutal in Hawaii and no one wants to end up with a wicked sunburn or skin cancer. So, do yourself a favor and get some UV sun sleeves and gloves or a good UV shirt before setting out. You'll also wanna protect your head from the sun. For that, I suggest a Buff UV headband since it is very windy by the sea and you might lose a hat.
This is a very easy trail. I am almost hesitant to call it hiking because it is that freaking easy. However, I know that these sorts of things are not a piece of cake for everyone. And, if you want to climb down onto the rocks (like I did), then it can be a bit more of a challenge. Plus, some of the path is very narrow with some loose gravel. Still, do not expect this to be a grueling hike. Probably the toughest thing about it is the heat and the high UV sun beating down on you.
Where To Park
This trail has a few different entry points, but I just followed the advice on TripAdvisor and parked in the middle because it was a good place to park for free. However, there are no public restrooms at this part of the trail. They're only at the ends of it. But, I still found this to be a good place to park. You can look at the photo above and locate the little star in a circle to see where this puts you in the trail.
So, the directions on TripAdvisor were a wee bit off but I was just there last week and can tell you how to get to the free parking.
All you need to do is turn onto Office Road. Take Office Road until it dead ends (it's not all that far). At this point, if you look to your right, you will notice a few parking spots. You can use those or drive past them and look to the left for a few more spaces where you can leave your car.
Once you're parked, you need to pick a direction to walk. You can see view the trail map that is pictured above where the paved trail starts through the gold course. Or, walk in the opposite direction down the road and make a right at the first road (not the doctor's office) and you'll see the start of the trail in this direction. Look for the entrance pictured below.
Obviously, this is the path that I took instead of the one through the golf course. The actual trail entrance is just to the right of the sign in this photo. You'll descend down past some beach showers and end up with the beach directly in front of you and the trail leading off the the left.
As you walk the trail, there are a lot of places where you can venture off the path and climb onto some of the rocks and get a bit closer to the sea cliffs. The ground is not level, so do make certain that you're wearing appropriate footwear. I saw a woman who was wearing flip flops get a little hurt when she tripped over a rock. No one wants a bloody toe while gazing out at the amazing coastal scenery, right?
Pretty much the entire trail has the ocean on one side and fancy resorts on the other side. There are also some protected nesting areas that border it and you are forbidden from walking in this area. As the trail winds around the coast, you end up coming to an area where you'll probably see a lot of local teens and young adults doing a bit of cliff diving. The path was a bit narrow in this area and it was crowded with locals, so I actually turned around right here and did not finish the trail. However, I could tell that it ended by bring you along the bay and to the beach after the cliff diving spot.
When you return to your car, I suggest that you take a trip down to the beach before heading back up. Why? Because you just might get lucky like I did and see a big sea turtle resting at the end of the beach. I can't think of  a more perfect way to end such a scenic little beach hike.