North Wales isn't just about stunning scenery, beautiful beaches, tumbling rivers and magnificent mountains. Throw in a region full of majestic castles, railways, music, history and festivals and you've got yourself the perfect holiday destined for fun, adventure and memories.
With the adventurous and adrenalin junky in mind, we have shortlisted 5 must do activities to experience when you visit North Wales.
1. Snowdonia National Park
It goes without saying that the world famous Snowdonia is on every outdoor enthusiasts bucket list. However, as incredible as Mount Snowdon is, there are many more wow moments to unearth within the national park. There are a total of nine mountain ranges with over 100 lakes and 90 peaks to discover.
There is the opportunity for both on and off road cycling, catering for all abilities (and energy levels!) The National Cycle Network passes through the National Park and around the northern fringes.
If cycling isn't your thing then choose from over 150 other attractions within the boundaries of the National Park. Activities include walking, cycling, fishing and various watersports. Visit Snowdonia have a helpful guide to everything on in the area.
Find a special place to stay nearby. Shepherds Hut Holidays in North Wales is a perfectly idyllic place to rest your head after a hard day of adventure. Get the details on booking it for your holiday stay at www.uniquesleeps.co.uk
2. Zip World – The Longest Zip Line in Europe
Zip World is the ultimate destination for adventure seekers. They launched in March 2013 with the internationally acclaimed Zip World Velocity. With speeds of over 100mph and over a mile in length, thrill seekers are whizzed through the sky, 500ft up in the air. Zip World Velocity is the original, fastest and longest zip line in Europe.
More suited to families and those still seeking adventure at a slower speed is Zip World Titan. The largest zip zone in the world (with over 8km of zip lines) should however not be considered a slow ride. Flying in groups of 4, teams will take in the incredible surroundings soaring high over Moor, Mountain and Mine, at speeds of up to 60mph. Not quite the slow lane.
(photo credit Zip World)
In keeping with the high off the ground theme you could spend the night in the wonderful Living-Room Tree Houses located south of Snowdonia National Park near Machynlleth. Find full booking details at UniqueSleeps.co.uk
3. Go Below – Challenge your Nerves with an Underground Caving Experience
Open all year round you can experience the challenge of Go Below with some of the most skilled mine explorers in the UK. Travel through a mountain and zip line across the water. Or boat across a lake, scale a waterfall and abseil your way down to the deepest point in Snowdonia.
Open all year round you can experience the challenge of Go Below with some of the most skilled mine explorers in the UK. Travel through a mountain and zip line across the water. Or boat across a lake, scale a waterfall and abseil your way down to the deepest point in Snowdonia.
If you want to step it up a level you can try the Challenge Xtreme and explore the largest and deepest abandoned slate mine in the world. There are over 50 miles of tunnels and more than 1,000 caverns carved into the mountain during Victorian times. The route is not for the feint hearted as you balance on old beams and pipes with nothing but voids of darkness below. When you reach the deep depths of 1,300 feet underground you will be at the deepest point that can be reached in Snowdonia.
(Photo Credit Go Below)
4. Go Sailing in Abersoch, Llyn Peninsula, North Wales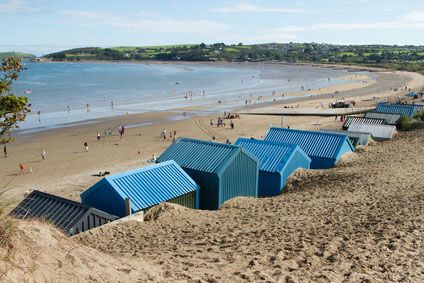 With amazing beaches and a pleasant climate the seaside resort of Abersoch has become a popular holiday destination with a wide range of water sports to choose from.
Abersoch is rated one of the best sailing destinations in Britain. With a picturesque coastline set against the stunning backdrop of Snowdonia, you might just spot a dolphin or 2 jumping through the waters on the Llyn Peninsula. With perfect sailing conditions due to the minimal tides and a location that provides shelter and space, it is the ideal place to sail the waters. Abersoch Sailing School is an RYA accredited school that can hire out yachts, windsurfs, kayaks, pedalos and catamarans. They also provide instruction for adults and children.
5. White Water Tubing on the River Dee
Similar to white water rafting but this time you're sitting on an inflated tube instead. This adrenalin fuelled activity takes you through the rapids and fast running water of the River Dee, in the small picturesque town of Llangollen, North Wales.
Llangollen Outdoors run many outdoor pursuits including the white water tubing craze that takes you along 3km of the River Dee, taking in some pretty spectacular countryside as you whizz past!
Part of the UNESCO World Heritage Site along 11 miles of canal, Llangollen has something for everyone, with a wide range of outdoor activities and independent shops and cafes.
(Photo Credit Llangollen Outdoors)
North Wales definitely has a lot to offer the active outdoor tourist and caters for them well. You will never be short of outdoor pursuits to choose from, the only problem will be how to fit it all in?
You could always hire a VW Campervan and take a road trip to all your favourite activities!
For more inspiration and ideas check out the North Wales Tourism website.
For quirky and unique places to stay in Wales and other areas, check out the Unique Sleeps website.
Shawna currently lives in Las Vegas where she gets in lots of great hiking at Red Rock Canyon and Valley of Fire State Park. When she has time, she visits National Parks in a quest to visit each one in the U.S. Shawna's favorite outdoors activity is hiking and her favorite National Park (so far) is Badlands National Park in South Dakota.
Latest posts by Shawna Newman (see all)