Love camping, hate laundry?
Me, too – so when I saw a video for a product called The Scrubba, I thought I'd give it a try.
My preference, when camping, is to always pack lightly, but I get tired of wearing dirty clothes. Going to a laundromat isn't my idea of a good time when I'm in the outdoors.
Some campgrounds, such as KOA, do have very handy laundry areas. However, my trials were done at areas where I would have had to drive to do laundry, plus get quarters and soap; that wasn't my idea of fun camping.
This takes me back to the Scrubba, and my laundry camping experiment.
This page contains some affiliate links. If you click through and make a purchase, I'll earn a commission, at no additional cost to you. Read my full disclosure here.
What Is The Scrubba?
It is a very sturdy plastic bag for washing clothes. You add water, laundry soap, your dirty clothes, and you scrub away.
There is a nubby washboard inside the bag, which gently scrubs your clothes, ostensibly making them extra-clean. It has two handy fill lines on the outside of it, along with small diagrams, so you know how much to put into the bag. This is not designed for big loads, of course.
Does The Scrubba Work?
How did it work? Here is my review.
Trial One was use of the Scrubba at its most basic: Cold water wash and rinse, while camping. I decided to do a small load of underwear.
The first step was to fill it to the appropriate line with water. I then added a teaspoon of laundry soap, used the spoon to stir up the soap, and added the clothes.
Then, I rolled down the top, clipped it, turned the valve and squeezed it to release air. The wash cycle thus began, with a kneading motion. This gets your clothes in contact with the built-in washboard. I did this for about seven minutes.
Then, I unclipped the clips to drain out the dirty water. I found that if I started at the back and rolled it, that worked a bit like a wringer.
I then re-filled with clean water and repeated the process, then unclipped, drained, tried to wring things out and hung the laundry around.
This part is challenging when camping, unless you have a small clothesline and clips (which are very handy). I highly recommend this addition to your camping gear.
For Trial Two, my environment was different – this time, we were an off-grid cabin that had running, heated, water. I purchased some clothesline and clothespins, and my husband hung two very study lines between two firs.
I also purchased laundry soap and small bottle Oxy-clean (a luxury, but well worth it).
For my next experiment, I went with some dirty t-shirts. One had coffee stains, so I hit those with the Oxy-clean, and let the shirt sit for a bit.
Again, I filled the bag with water to the appropriate mark, this time using warm water. Once filled with water, I added a teaspoon of laundry soap, and stirred it around.
I added the t-shirts, clipped, squeezed out air, and kneaded. I really worked this load hard. It's not a bad place to get your aggressions out, much like pounding chicken breasts or shaking dirty rugs.
After about eight minutes, I unclipped, drained, and re-filled with clean water. After draining, I did a little extra gentle wringing before hanging the shirts up on a clothesline.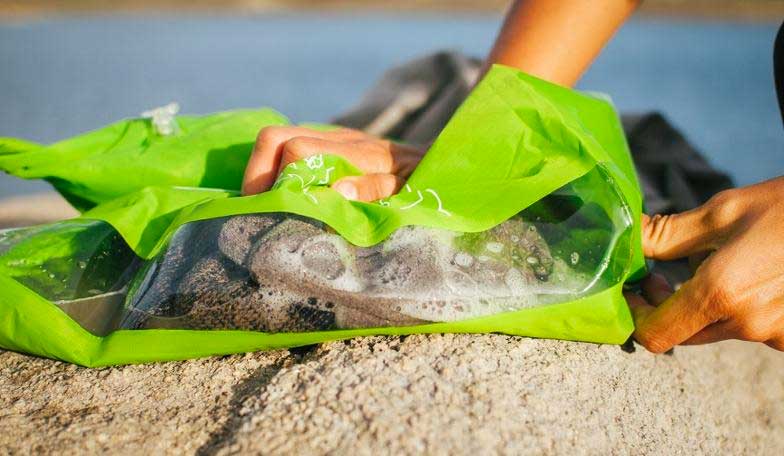 I realized how much an old-fashioned wringer would be nice to have at a cabin. I hung up the shirts, and was pleased to see that the coffee stains were barely noticeable. The clothes dried within four hours in the mountain air and smelled wonderful.
I got cocky for Trial Three, deciding to wash some beach towels that smelled musty. I could only do one towel at a time, and my advice is to get a partner to help you wring the towel out.
However, it could be done. I was pleased that they came out so clean and fluffy.
By this time, I was so enthralled with the Scrubba that I purchased a very inexpensive laundry basket in town, when we went in for groceries. That also made my laundry-life easier.
Trial Four involved sheets when some guests left. Again, I could only do one sheet at the time, and then did the pillowcases in another load.
It worked, though, and I was able to re-make the bed with fresh, crispy, fir-scented sheets. Talk about luxurious camping.
I did chicken out when it came to washing our jeans. The area where we both camped and cabin-camped was surrounded with red (clay) dirt, and I didn't think I could possibly get it out. In retrospect, I wish I had tried them.
As to warm water versus cold: My cold/cold loads came out in an acceptable way, but I think the loads where I used warm water were better. When camping, if you keep a kettle or pot going with some hot water, this will help the cause.
Also, when camping, you'll need a flat spot to work on, so look for a big rock. Alternatively, maybe you'll be lucky enough to have a picnic table, or camping table, to work on.
The Scrubba bag is extremely sturdy and survived my pummeling every morning without complaint. I used it for three weeks, every morning, and was able to keep up on clean clothes. It folds to a very compact size so I can wholeheartedly recommend it for camping or cabin-camping.
I paid $54.95 for my Scrubba. I was concerned that it was a little on the expensive side.
However, after doing laundry with it for three + weeks, and having it hold up perfectly, I think I'll be able to use it for years to come.
Weirdly, I found it sort of fun, and it was gratifying to take down fresh , fir-infused laundry every afternoon and fold it away. If I had had any kids around, this would have been a good chore for them.
I thought about what my mom went through for years when we camped, and how grateful she would have been for this handy product.
Rating: A. Great product, easy to use, super results. If you're interested, check it out on REI or Amazon.