I've been spending some time in Bodrum, Turkey just relaxing before making my way to to Cappadocia to do a bit of hiking. If you have never been to Bodrum, then it is definitely something worth checking out. Mostly because it is right on the Aegean and it is just beautiful here. However, it is honestly not the best place to spend a long period of time because there's not a ton of things to do. And, the city is very crowded and hectic. I know that might not sound like the most positive of endorsements, but I really do think it is worth visiting at least once.
For me, one of the best things about Bodrum is the easy accessibility to some nearby Greek Islands. For a very low priced ticket, you can make your way by ferry to places like Kos and Rhodes. And since I've been getting a bit bored here in Bodrum, I spent last weekend checking out Kos, Greece.
Getting There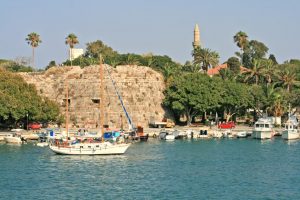 Getting to Kos from Bodrum is very easy. There are a few times a day when you can take the ferry over to the island. The cost for the ferry is around $22 USD one-way, but a little cheaper if you take the morning ferry out (9am or 9:30am) and come back to Bodrum on the evening ferry. The ride each way is about an hour. I used a different ferry company for my rides since I stayed overnight in Kos and didn't return on the same day. Each boat had a little snack bar that sold hot and cold drinks and some food. One had three levels of seating, with only the top exposed to the sun and the bottom completely enclosed. The other had two levels with no outside seating safe from the sun's rays.
I get motion sickness very easily, but I was fine on these rides thanks to wearing a pair of Sea-Bands bracelets. That being said, I discovered that the lowest level of seating definitely gets more motion than the upper levels.
As the ferry pulls into the port in Kos, try to make your way to the front of the exit area. Why? Because going through immigration and getting your passport stamped is a lengthy process. I ended up waiting almost an hour in the blazing sun just to get inside passport control and get my stamp.
The cool thing about the port is that it is right by the castle in Kos, so you get a pretty great view arriving on the island. The port in Bodrum is also by the castle, so you get great views each direction.
Where To Stay In Kos
This was my first time in Kos Town and I was only staying for two nights, so I focused on find a hotel that was close to the port. Normally I just Booking.com for my hotels as it's the place with user reviews that I trust the most. I ended up finding a great deal on a penthouse aparthotel for the low price of $100 per night! Ocean view, kitchenette, free wifi, highly rated on Booking.com and just a half mile from the port. Check out the view below…
The hotel is called the Bristol Sea View Apartment Hotel. I highly recommend it if you find yourself visiting Kos for the weekend. And probably the best thing about it for those of you who like to cycle is that there is a shop connected to the reception area that rents out bikes, scooters, ATVs, dune buggies and more. A basic road bike will cost you 5 Euros per day.
Things To Do
If you enjoy seeing lots of ruins and really cool old historical stuff, then you'll have plenty of things to walk or bike to while you're staying in Kos Town.
The Ancient Agora has plenty of ruins for you to explore on foot. It covers quite an expansive area and you'll have to leave the bike and navigate it on foot. If you pay attention as you wall through the ruins, you will notice that some of the ancient mosaic tile floors are still visible in the dilapidated ruins.  This was some of the coolest things that I have seen in an ancient site like this.
You might be surprised to learn that there is no entry fee to the Agora. And, you are free to walk about it where ever you please. Shocking, huh? When I was in Athens last year they had all of the old sites blocked off where you could not really get that close to the ruins, so this really took me by surprise.
And if you like cats, this place is crawling with them! Actually most of the places that you are in Kos have a rather high stray cat population. Dogs too. It's the same way in Turkey, which is great if you like cats (or dogs) and bad if you do not.
If you walk a bit away from the city center, you will end up finding yourself checking out the Roman Odeon of Kos.
This is another really cool old thing that is completely free to check out. It is very well preserved and really cool to see in person.
It was supposedly built around the 2nd century and looks remarkable even today. I'm assuming that parts of it have been restored, but it's hard to know for sure since there was no information about it at the site.
My photo is a bit crooked, but gives you an idea of how cool this thing looks.
Another cool thing to check out is the Kos Town Castle right by the port. It is the only thing that I found on the island that you actually have to pay to enter. However, this cost is only 3 Euros and the place is huge. Plus, you get some great views of the sea when you climb up to the top level of the castle.
These are just some of the cool things that you can do in Kos. If you want to squeeze it in, there are some hot springs that you can bike to about 10km from Kos Town. Just be advised that there are zero facilities there so arrive in your swimsuit or expect to change out in the open. There are also some beach rental companies in Kos Town where you can give things like parasailing a go. But if you indulge in as much rich Greek food as I did, you'll need an activity that involves a bit more cardio!