ActiveWeekender.com is a resource that empowers you to get active and enjoy spending quality time being active outdoors.
We are a group of passionate outdoor enthusiasts and fitness freaks who research, test and educate around issues relevant to the active lifestyle and outdoors communities.
We strive to create a quality resource for beginners looking to get active, the sometimes outdoorsy person, and those with more intermediate or advanced skills.
We want to help educate you with our unbiased reviews so you can make better informed decisions about buying and using fitness and outdoors equipment and gear (without having to rely on a fitness trainer or outdoors specialist).
To us, being fit and outdoorsy is about more than getting ready for swimsuit season or snapping a pic for Insta.
It's a lifestyle.
And a passion.
Our Mission: To help you get active and enjoy the great outdoors, no matter what your skill level may be.
Our Values
Leave No Trace – we want everyone to enjoy the outdoors responsibly, so leave it like you found it.
Fitness Is A Habit – we believe that fitness is part of a healthy lifestyle and not something you do when you want to lose a few pounds.
Explore More – we encourage everyone to step out of their comfort zone and get outdoors to do some exploring.
Where You've Seen Us
If you're new to the Active Weekender site, then there's a chance that you saw us mentioned on another site. Below are a list of some of the recent publications who have mentioned us. Some of these mentions were interviews and others were guest posts. Check them out:
Companies We've Worked With
We also have tested out products and done reviews for a few select companies. Some of the companies that we've worked with include:
VSSL
Timber Ridge Camping Supplies
Tailwind Nutrition
Outdoor Element
Hydro Flask
REI
evo
If you'd like to work with us, then learn more about the process here.
Meet The Active Weekender Team
Below you'll find a list of our current and past contributors.
Shawna Newman, Editor-in-Chief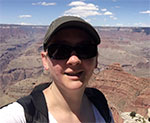 Shawna currently lives in Las Vegas where she gets in lots of great hiking at Red Rock Canyon and Valley of Fire State Park. When she has time, she visits National Parks in a quest to visit each one in the U.S.
Shawna's favorite outdoors activity is hiking and her favorite National Park (so far) is Badlands National Park in South Dakota.
Her must-have piece of gear is a Buff UV headwear since it's a great multipurpose item for any activity.
Jess Farley, Contributing Writer
Jess is a New Zealander who is an avid trail-runner having just completed the Vietnam Mountain Marathon.
Jess is also a qualified diver and, at the time of writing for Active Weekender, currently on Koh Samui hiking, kayaking and snorkelling before heading to Japan for the Snow Season.
Lori Bell, Contributing Writer
Lori is interested in traveling and adventure sports. When Lori wrote for this site, she was traveling in Latin America.
Lori loves trying new things. Some of the active adventures she's had include surfing, white water rafting, and climbing a volcano in Latin America.
Kevin White, Contributing Writer

Kevin is a U.S.-based freelance writer and editor.
He's also an avid outdoor enthusiast with a bevy of experience in both participating and writing about outdoor activities.
Sarah Sackville, Contributing Writer
Heya! I'm Sarah or many call me Sacky! Some years ago a solo 3 month trip through Asia changed me forever. It stirred the adventurer in me and gave me the confidence to try new things.
The desire to accomplish these new tasks became addictive and thus a slight attention deficit approach to participating in outdoor sports was born.
A problem arose when I realised that my lifestyle couldn't incorporate the normal 9-5 so I became a freelance writer! So here I am somewhere between random library desks, mountains and the surf soaking up this opportunity!
Pablo Barragán Grondona, Contributing Writer
Pablo is an Argentinian freelance travel writer currently living in Barcelona.
He spent the last year and a half working and traveling through Australia and New Zealand, discovering the wonders and magic of Oceania.
His favourite outdoor activities are biking and cycling, but he loves everything that gets him closer to nature!
Krista Farris, Contributing Writer
Krista Farris is an outdoor enthusiast who enjoys running, hiking and biking trails throughout the Shenandoah Valley and the mountains beyond.
Certified by the American Council on Exercise for more than two decades, she leads fitness classes for people of all ages and interests.
She's a trained anthropologist who seeks to help humans foster health through communication and shared experiences.
Chase Newman, Gear Tester
Chase is based out of Chattanooga, TN where he has access to lots of great outdoor activities.
Depending on the season, you can find him rafting, hiking, kayaking, or camping.
Riley LaShea, Gear Tester, Writer, & Photographer

Currently based out of Amsterdam, Riley isn't afraid to spend a lot of time getting that perfect shot.
She's a fan of bighorn sheep, cloudy days, and Badlands National Park. And she hopes to see a moose in the wild at least once (from a safe distance, of course).