If you're looking for some fun ways to spend an active weekend in the state of California, there is no shortage of national parks where you can enjoy outdoor activities like fishing, camping and hiking (just to name a few). And while I think everyone thinks about places like Joshua Tree for such weekends, there are actually a lot of other great parks for you to explore. Keep reading for some ideas of where you can go this weekend.
1. Pinnacles National Park
If you enjoy hiking, then Pinnacles National Park is a great choice for you. You will find over 30 miles of trails that you can hike. And, there is something for all skill levels – from easy, flat hikes to more challenging terrain.
The park itself is pretty cool since it sits in what are the remains of an ancient volcano. The end result is scenery that looks a lot like what you see when you go to Turkey to visit Cappadocia.
Since the park is known for it's dramatic cliffs, it is also a hot spot for rock climbing enthusiasts. You will also find a lot of caves to explore, just watch out for the big-eared bats that call the Talus Caves home.
And, if you want to spend the entire weekend at the park, there is a campground on site. It accommodates both tents and RVs.
Find more info on the park's official website.
2. Lassen Volcanic National Park
Not too far from Redding, you can visit California's version of Yellowstone at Lassen Volcanic National Park. This park is home to the largest plug dome volcano in the world. As you can imagine, the scenery here is pretty spectacular.
The park is popular with birdwatchers, but it offers a lot of opportunities for the adventure traveler as well. In the winter, the park gets a LOT of snow – up to 900 inches of it! That means that you can go skiing or snowshoeing in the park.
And if winter outdoor activities are not your thing, there's plenty to keep you busy the rest of the year. There are seasonal campsites in the park if you want to stay overnight. And hikers can explore the 150 miles of trails through the volcanic terrain. As for water sports, you can spend some time out on Manzanita Lake on your kayak, boat or stand up paddle board.
Find more info on the park's website.
3. Devils Postpile National Monument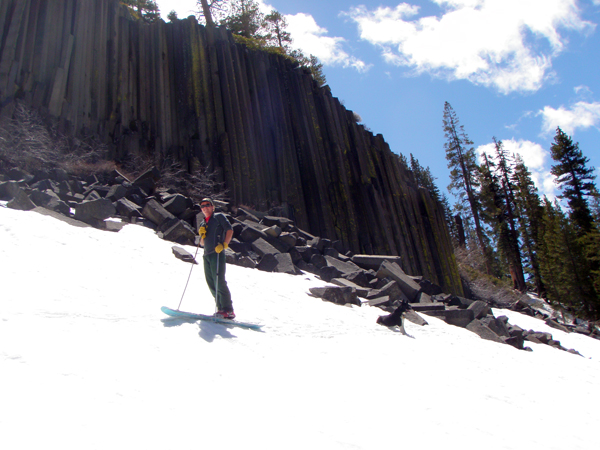 This park has some very unique scenery. The columns that you'll see there are the result of a geological feature called columnar basalt, which is same stuff that caused the Giants Causeway in Northern Ireland. Ancient cooling lava is what causes such a feature and the end result are these columns that look not of this world.
But this park has more to offer than just views of wicked cool geological formations. Here you'll be able to see the 101-ft high Rainbow Falls and lots of beautiful mountain scenery. If you enjoy hiking, then there are several trails for you to explore.
Other activities that you can enjoy at this park include camping, backpacking, fishing, horseback riding, road biking, mountain biking, skiing and snowshoeing.
For full details on this park, visit the official website.
4. Death Valley National Park

I think we've all probably heard of Death Valley, even if it's just because of the crazy high temperatures coming out of there in the summer. But what you might not know is that you can actually visit the park and have a fun little active adventure.
Winter and spring are the best times of year to visit the park because that is when the temperature actually drops below 100 degrees. If you enjoy camping, there are nine different campgrounds in the park, but only those at higher elevations are open during the hot summer months.
Activities that you can enjoy here include hiking, backpacking, horseback riding, mountain biking, and bird watching. This is actually an awesome place for mountain biking as there are hundreds miles of mountain biking trails in the park.
Before visiting, keep in mind that the dry climate requires that you drink more water than usual just to stay hydrated. So, pack accordingly.
Get more information about visiting the park on their website.
5. Yosemite National Park
No list of the best national parks to visit in California is complete without the inclusion of Yosemite. It is one of the most well-known (and visited) parks in the country – and for a good reason! The scenery here is nothing short of amazing.
You can visit this park all year long and there is no shortage of outdoor activities for you to enjoy, regardless of the season. Some of your adventures can include hiking, rafting, rock climbing, fishing, wildlife watching, camping, backpacking, skiing, snowshoeing, horseback riding, and swimming.
The park covers about 1200 square miles and is home to giant waterfalls, deep valleys, high cliffs, ancient sequoias, black bears and other wildlife. You certainly won't be disappointed when you visit, but definitely plan on spending more than one day in the park. It's best seen over a long 3-day weekend, if you ask me.
Find out more about visiting Yosemite on the park's official website.
top image:Ken Lund, Flickr CC2.0