Heard people raving about the Peloton bike and considering adding one to your home gym?
But before you buy, you've got some questions that need answered.
Let us help you out.
We've got the most common questions you have before buying a new Peloton bike for the home gym.
So, take a look below to see if we've already answered your most burning questions about this indoor spin bike.
Don't see the answer to your question? Just let us know and we'll try to get the answer for you!
This page contains some affiliate links. If you click through and make a purchase, I'll earn a commission, at no additional cost to you. Read my full disclosure here.
Can You Watch Netflix On Peloton?
No, you cannot watch Netflix or add any other apps, like Hulu or YouTube, to the bike.
As noted by The Verge, the easiest way around this is to setup your bike in a room with a television where you play play Netflix while using the Just Ride mode on your bike.
And beware any suggestions you see online about hacking the bike's monitor to bring up a browser to access Netflix because this voids your warranty.
Can Peloton Instructors See You?
No, the Peloton instructors cannot see you. While there is a camera on the bike, it cannot be accessed by any of the instructors.
The camera is only for you to use when doing a video chat and ride with friends who also own a Peloton.
Does The Peloton Ever Go On Sale? (Black Friday Sale?)
With a high retail price of $2245, you might be wondering if you can get it cheaper on Black Friday or another time of year when it goes on sale at a lower price.
But you'll never see that day.
No, the Peloton bike never goes on sale.
However, from time to time Peloton does offer freebies with purchase, such as a free accessory package or free shoes. You just need to watch their website for these offers.
Do You Lose Weight With The Peloton Bike?
As with any regular usage of workout equipment, when you start a new exercise routine you can expect to lose some weight and see some toning of your body.
They key to losing weight it a Peloton bike is to make the exercise a habit and to add in some strength training and other workouts each week.
So, keep watching those spin classes while you pedal along on your Peloton.
Related reading: Is Biking 10 Miles Per Day Enough For Weight Loss?
Is A Peloton Worth The Money?
It depends. Are you looking for a high quality spinning bike with access to instructors that you can follow along with at home?
If so, then yes, the Peloton is definitely worth the money.
When you consider the cost of paying to go to a spin class versus the Peloton monthly subscription, then you see what a good deal it is – of course, that's after the cost of the bike itself.
So, if you would normally be paying for spin classes, then it only makes good sense to get a Peloton bike and do your workouts from the comfort of your own home – without having to worry about getting to the gym on time.
Is Peloton Better Than NordicTrack?
It depends on what you're looking for in your home spin bike. Both the Peloton and the NordicTrack S22i are great indoor cycling bikes.
So, let's compare the Peloton vs NordicTrack S22i indoor exercise bikes.
With the NordicTrack S22i, you get a full year's subscription to NordicTrack iFit, which means that you can stream live and on-demand fitness classes.
The NordicTrack S22i bike has a cheaper price at $1999 MRSP, though prices may vary at retailers.
Amazon sells both the NordicTrack S22i and the NordicTrack S15i. Check current Amazon price here.
Another cool feature of the NordicTrack S22i is that it comes with a set of 3 lb. dumbbells for cross-training on your bike.
Overall, I think the NordicTrack spin bikes are a slightly better value for the money, but it really depends on you and what your wants and needs are when you buy a home spin bike.
Can You Rent A Peloton Bike?
No, the Peloton company does not offer a rental program. However, there may be a local company in your area that rents out Pelotons.
It's a good idea to search online and see if any local companies are offering this service.
If the price of the Peloton is what has you looking for rental options, then you should know that the company does offer financing.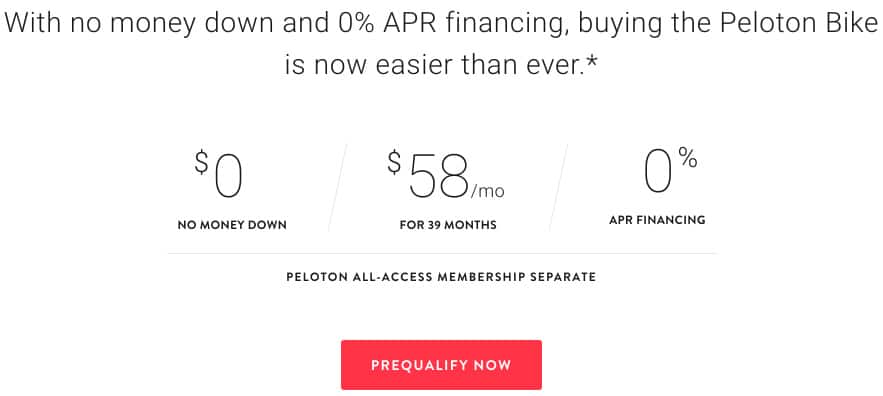 As you can see, they are currently offering a no money down and 0% APR finance deal where over 39 months you pay just $58 per month to own your bike.
This means it doesn't cost you a single cent more to finance it, if you qualify.
Can I Buy A Peloton Without Subscription?
Yes, you can buy a Peloton bike without paying for the monthly subscription. The bike works just fine without the subscription.
However, without the subscription, you won't have access to the classes led by the spin class instructors.
And honestly, you'd come out cheaper by buying the NordicTrack S22i bike if you don't want the Peloton monthly subscription.
How Do I Unplug My Peloton Screen?
Have you decided that you want to disconnect the screen on your Peloton bike? Well, the process is actually quite simple.
You just need to flip open the bracket to access the cables that run to the monitor screen.
But what if you want to completely remove the screen from the Peloton, either for repair or moving the bike?
Fortunately, a Peloton owner has created the video below that gives instructions on doing that.
Just keep in mind that taking apart your bike will void the manufacturer's warranty.
Is There A Cheaper Alternative To Peloton?
Yes, the NordicTrack Commercial S22i Studio Cycle is the most comparable indoor spin bike to Peloton bike.
And, it's a cheaper option!
Check the price of the NordicTrack S22i spin bike at Amazon. You may also find it at other retailers, including direct from NordicTrack.
Who Is The Owner Of Peloton?
John Foley is the CEO and founder of the Peloton company.
According to an article on Business Insider, investors turned him down for four years while he was trying to get his company off the ground.
And here we are now with the brand being a household name!
How Much Does A Peloton Instructor Make?
Are you interested in becoming one of the spin class instructors? Or maybe you're just curious about how much they earn for the classes?
While the company does not publish the pay rates on their website, some of the instructors have done interviews that clue us in on the pay rate.
Peloton instructors get paid between $500-$750 per live class, and they earn up to around $300,000 a year.
Considering that the Peloton studio is based in NYC, this salary isn't as high as it seems.
Who Is The Best Peloton Instructor?
While the answer is subjective, the most popular instructor is Robin Arzon.
She is also the vice president of fitness programming for the company.
As to which instructor is the best, that really depends on what you like to see in a fitness class instructor.
Can You Ride A Peloton With Regular Shoes?
As you may know, Peloton sells their own branded shoes for use with the bike. But you don't have to use them.
In fact, you can use any cycling shoes that you like to clip in to the pedals for your cycling sessions.
If you want to wear regular sneakers on your Peloton, then you have to change out the pedals.
So, while you don't need clip in shoes for the Peloton, it's really better if you do have a pair of them.
Are The Peloton Shoes Any Good?
With a cost of $125 for the Peloton cycling shoes, you might be wondering about the quality of the shoes.
The truth is that they are fine and there's really nothing wrong with them.
However, you can buy better quality indoor cycling shoes at a lower cost.
I suggest you look at Shimano shoes and put the Delta cleats on them for the best results on your bike.
REI has a great selection of Shimano cycling shoes. Get the best prices here.
Are Peloton Bikes Made In China?
No, Peloton bikes are not made in China. In fact, all of Peloton's manufacturers are based in Taiwan.
Peloton is not made in the USA, but it's headquarters are in New York City.
And their studio is in the Chelsea neighborhood of NYC.
Why Is It Called A Peloton?
The name is from the French language, where it originally had the meaning of "platoon" in English.
However, it is a common term in road cycling races.
In the road cycling race world, the term refers to the main group, or pack, of riders in the race.
Which Is Better: Peloton or Echelon?
While the two options here are very similar, there is one noticeable difference.
The Peloton offers a slightly smoother ride than the Echelon.
For that reason, we think that the Peloton is just slightly better than the Echelon.
Can You Return A Peloton Bike?
Not sure if a Peloton is the right indoor exercise bike for you? Not to worry!
Yes, you can return a Peloton bike within 30 days of receiving the delivery.
However you cannot get a refund on the shipping charges.
How Do You Maximize Peloton Output?
You can increase Output by increasing your cadence (spin the pedals faster) or resistance (turn knob tighter -> higher resistance number), or both.
If you look at your Output during the course of a ride, you'll notice a small change in resistance has a bigger effect on output than a similar change in cadence.
Can You Use The Peloton App With Any Bike?
Yes, you can use the Peloton app with any bike, not just the Peloton bike.
You just need to download the app to your phone or other mobile device.
While the app is free to download, you will need to pay a monthly subscription fee to have access to the content.
What Apps Does Peloton Sync With?
If you track your exercise and fitness activities in other apps, then you'll be able to use those with Peloton.
Right now, Peloton syncs with the Strava, Apple Health, and Fitbit apps.
And yes, this means your Apple Watch syncs with Peloton.
Can You Put A Peloton Bike On Carpet?
Yes, you can put the Peloton on a carpeted floor, but you should really put it on a flat surface like hardwood or tile.
You'll get the best results, and have a more safe and stable bike, if you put it on a flat floor surface instead of a carpeted floor.
Can You Preload Classes On Peloton Bike?
Yes, you can preload classes on your bike.
This means a reduction in buffering!
Yes, you can share your subscription. Its intended use is for everyone in the household under one subscription.
Everyone has access to the same content as the named subscriber.
Do I Need A Mat For My Peloton?
No, you do not need the mat for the bike to work as designed.
However, it is a good idea to put a mat under your bike.
The bike not only protects the floor under your bike, but it also catches any drops of sweat the falls off your body while you're working out.
Does Peloton Have Scenic Rides?
Yes, in addition to access to classes you can opt for scenic rides for your workouts.
All you have to do is select the scenic ride option.
Please note that if you only intend to use the scenic ride option that there are cheaper workout bikes for you to buy, like the NordicTrack S22i.
Can I Play My Own Music On Peloton? What About Spotify?
If you don't like the music on the Peloton workouts, then you're not alone.
You might want to play Spotify on your Peloton, or play Apple Music on the bike. But I've got bad news for you.
No, you cannot play your own music, including Spotify, through the speakers on your Peloton bike.
Sure, you can hack the bike and get it to work, but doing so voids the warranty on it.
Can I Watch Movies On Peloton?
No, you cannot watch movies on the LCD screen of your Peloton bike.
It just does not have that out of the box functionality.
Like the music question above, there are ways to hack the screen so that you can watch movies.
But this also voids that warranty on the device.
Does Peloton Check Your Credit?
If you're wondering does Peloton run your credit when you buy one of their bikes, then answer is no — unless you are applying for financing.
Financing the bike is the only reason they will run your credit.