You're feeling confident on your stand up paddle board in the rivers and lakes, so it's time to conquer some waves. Whether you're looking to master small waves or bigger ones, there are plenty of SUPs that are designed for wave riders like you.
For the best paddle surfing experience, you need a paddleboard that is designed for surfing, So, if you've got a flatwater board, you'll need to get yourself something made for catching and riding those waves. Luckily, we can help you out with that.
This page contains some affiliate links. If you click through and make a purchase, I'll earn a commission, at no additional cost to you. Read my full disclosure here.
Top 6 Best SUPs for Surfing (2019 – 2020)
we've based this list on value, maneuverability, and performance

PHOTO
BOARD
NOTES

Hobie Heritage Stand Up Paddle Board with Paddle – 10'6

Smooth, stable ride
Lightweight EPS core wrapped in multiple layers of fiberglass and bamboo
Package includes board, a high-performance fin, 10 ft. leash and a 2-piece adjustable, telescopic paddle

Best Price at REI

Boardworks Kraken Stand Up Paddle Board – 10'3

Stable, maneuverable and responsive in the surf

Cruises easy on your local waterway

Best Price at REI

Boardworks Flow Stand Up Paddle Board – 9'11

Full-length "Honey Fomb" deck pad offers traction and comfort underfoot

LiftSUP™ handle allows easy portaging and locking

Good for small waves, cruising, and SUP yoga

Best Price at REI

BIC Sport Performer TOUGH-TEC Stand Up Paddle Board – 11'6

Surf-inspired longboard shape; efficient flatwater cruiser that also performs great in surf

Best Price at REI

Surftech Bark + prAna Catalyst Tuflite V-Tech Stand Up Paddle Board – 11'2

Good for surfing small to medium waves

Best Price at REI

ISLE Versa Epoxy 10'5 Standup Paddle Board

Includes carbon hybrid adjustable SUP paddle with nylon blade, 8' coil leash, and nylon touring center fin.

Buy at Amazon
What To Consider
The most important thing about SUP surfing is that you need the right paddle board. And while some SUPs are designed for surfing, you can still personalize your experience a wee bit.
For instance, do you typically surf on a longboard or a shorter board? Your preferences can carry over to your surfing SUP selection. Or are you completely new to surfing? If so, you'll probably want a board that's easy to surf on.
There are few other things to consider in addition to if you like flying down the line or carving and throwing spray. Things like SUP surfboard length, rocker, rails, tail-shape, bottom contours and fin setup. Let's go over some of those things now.
SUP Length
If you are already an experienced surfer, then we suggest that you stick with your preferred board length.
But if you are new to stand up paddle board surfing, then we suggest that you look for a longboard SUP. This will be the easiest for you because longer boards offer more stability, which means that you won't tip over and fall in the water.
That being said, the shorter and smaller the paddle board is, the more surfable and maneuverable it will be out in the water.
In our experience, the best SUPs for surfing are around 10-feet in length, with a width between 30 – 32 inches. If you can keep upright on one of these SUPs, then you'll catch some sick waves out there.
Inflatable vs Solid SUP
As you shop for a surfing stand up paddle board, you'll notice that you can choose from inflatable models and solid hard-body models.
So, which is better for surfers?
Both are good for catching and riding waves, so choose whichever type you prefer. The benefit of inflatables is that they're easy to transport and store. The benefit of solid models is that they feel more like a real surfboard.
SUP Fin Setup
You might be wondering, what's the best fin setup for SUP surfing? Well, you have a few options here.
If your paddleboard only has a single fin, then you can put it in the forward position and get in some decent surfing.
The three-fin setup also works for good surfing.
But the best fin setup up paddleboard surfing is the two-fin setup. Why? Because it lets you be more aggressive with carving while surfing.
So, ideally look for a SUP that gives you that 2-fin setup.
SUP Board Shape – Is It Ideal For Surfing?
Before buying your board, you should consider is this SUP will be used only for surfing or if it will be your main paddle board that you will use for all types of paddling.
If you're going to use this board just for surfing, then you definitely want a board with a shape designed to ride those waves.
SUP surfing boards are generally thinner and shorter than your general use paddleboard. Common characteristics include around 9-feet in length and only 4-inches in thickness.
According to Pumped Up SUP,
" The lower volume of a surf-specific board can enhance performance on large waves where the board will be skimming over the water surface instead of relying on the inherent buoyancy of the board, and the thinner rails of a 4-inch thick board may enhance turning performance in certain conditions."
You'll also notice that some surfing SUPs have a tail that's more narrow than your normal all around board. The reason for this is that the narrow tail design tends to be more responsive to foot pressure for turns.
Pumped Up SUP also notes that the factors that make these boards work well for surfing – short length, low volume, reduced thickness, and narrow tails – also make them less suitable for other types of paddling where more length and volume are needed.
For paddlers who want to surf on their main paddle board, then your best bets are either a good all around SUP or a touring board.
What you should know about using a touring SUP for surfing is that it behaves in the water somewhat like a longboard surfboard.
How's The Deck Pad?
For the best experience surfing on your stand up paddle board, you need to get an SUP with a deck pad that gives you good traction and feels good underfoot.
Let's face it, if you're going to be learning to surf for the first time, then you're going to take a lot of falls. And when you face plant onto that deck pad, you want it to be as comfortable as possible.
So, what should you look for? A deck pad that is thick and covers more board space (longer than normal).
Ideally, you'll choose a surfing SUP that has a contoured tail pad area with a raised rear edge. You want to look for this because it will keep your back foot from sliding off the board. Plus, it will give you more leverage when applying foot pressure for those turns.
Though rare, it's even better for surfing if you can find a SUP with a a raised arch bar at the tail of the deck pad that lets you feel where your back foot is situated without having to look down.
Stand Up Paddle Boards for Surfing
Our editors are constantly on the lookout for the best paddle boards for wave riding. We update our recommendations regularly.
Below you can find some of the Active Weekender staff picks for surfing stand up paddle boards.
1. Hobie Heritage Stand Up Paddle Board with Paddle – 10'6″
While technically an all-around SUP, the Hobie Heritage stand up paddle board provides a smooth, stable ride while flaunting some timeless, longboard-inspired cool.
Like all Hobie SUPs, this board performs well in the waves. If you're only going to own one board for general paddling + surfing, then this right here is probably your best option.
2. Boardworks Kraken Stand Up Paddle Board – 10'3″
Also a good all-around SUP, the Boardworks Kraken 10 ft. 3 in. stand up paddle board is stable, maneuverable and responsive in the surf, but still cruises easy on your local waterway.
Its ideal surfing use is for small waves.
We really like the comfortable foam deck pad, which offers good grip and reduces foot fatigue. And, this one has the Quad+1 fin setup.
3. Boardworks Flow Stand Up Paddle Board – 9′ 11″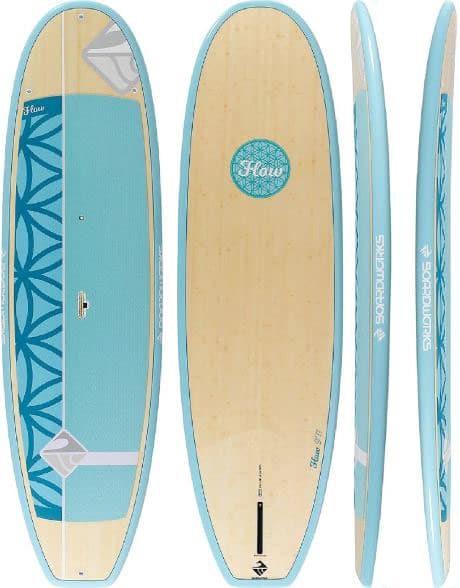 Also a good all-around SUP, the 9′ 11″ Boardworks Flow stand up paddle board offers a comfortable, supportive platform for SUP yoga, riding small waves and cruising the flats.
Its small size is what makes it ideal for surfing small waves.
We really like the full-length "Honey Fomb" deck pad offers traction and comfort underfoot.
4. BIC Sport TOUGH-TEC Performer Stand Up Paddle Board – 11′ 6″
Also a good all-around SUP, the BIC Sport TOUGH-TEC Performer stand up paddle board is an efficient flatwater cruiser that also performs great in surf.
We really enjoy it's surf-inspired longboard shape and stable flat water volume.
The round thumb tail shape it what makes it perfect for surfing. That tail shape makes for smooth rail transfers and pivot turns out on the water.
And, the embossed EVA deck pad is plush and comfortable while offering excellent traction.
5. Surftech Bark + prAna Catalyst Tuflite V-Tech Stand Up Paddle Board – 11'2″
This narrow SUP offers you a lot of style and speed as you carve those waves.
Made in collaboration with Joe Bark and prAna, the 11 ft. 2 in. Surftech Bark + prAna Catalyst Tuflite V-Tech stand up paddle board is great for flatwater cruising and surfing small to medium waves.
6. ISLE Versa Rigid Epoxy 10'5″ Standup Paddle Board
This 4.5-inches thick SUP is another great choice for the surf.
In fact, it's one of the top all arounder SUPs cause it does it all. The Versa is the most ideal board for any skill level to enjoy. Whether you are using it for leisure paddle boarding, SUP surfing, SUP fishing or SUP yoga, the Versa is perfect for any trip on the water.
We love that it has a tail mounted traction pad with center support arch bar for maximum grip during those high performance carves on the wave face. The slight kick tail on the deck pad helps the rider maximize the full performance of each turn.
Previous Recommendations
While a shorter SUP size is deal for most people, do remember that each person is different and just like some surfers prefer longboards, some SUPers will also prefer longer SUPs. For that reason, I'll be highlighting both long and short iSUPS that perform well in the waves.
BIC Sport ACE-TEC 10'6″ Stand-Up Paddleboard Review
This is the classic line of surf-inspired EPS foam SUPs that BIC makes. They are designed with versatility in mind so that you can use them for cruising as well as surfing.
To get more stability in the waves, just change up from a single center fin to two side fins and you are ready to surf those waves.
This is an ultra durable board that will give you plenty of years of enjoyment in the water. And, it has a pretty decent price.
Note that this SUP does not come with a leash or a paddle, so that is an extra cost that you'll need to budget in when considering how much this will cost you.
As you can see in the image, you can choose from several different color choices as well as a few different board size options. However, we think that the Bic BIC Sport ACE-TEC Performer 11′ 6″ Stand Up Paddle Board is the best SUP for small wave surfing.
Where to Buy:
For the sizes, you should go with the SUP that best fits your body weight as you do not want to get one that cannot handle supporting you out in the water.
Here's the breakdown of board sizes and weight limits:
9.6 ft board is for under 120 lbs
10.6 ft board is for under 200 lbs
11.6 ft board is for under 240 lbs
One of the things that I think you'll notice as soon as you get this board out on the water is that it gives you a better glide than your average cruising SUP. That what makes it so good for surfing. My only real complaint with this board is one that a lot of paddle boarders echo – along the side there is a very rough seam that will rough up your skin if you fall against it. BIC's suggestion is to use a sander to sand it down so that it's not a problem. Personally, I don't see why they can't do this before it leaves their warehouse. So, just something to keep in mind as you compare this iSUP to other surfing SUP options.
Fisher Aria 11′ Inflatable Stand Up Paddle Board
Another good option that has an affordable price is this iSUP by Fisher Aria. It is available in this one size and packs a lot of punch. It is a very versatile board that just happens to be great for surfing. Plus, it has a great price.
As you can see, the iSUP has a classic surfboard design, which is one of the reasons that it glides so well in the waves.
This SUP works well for recreational paddling, surfing and kayaking. I actually comes with a detachable kayak seat (if you're interested in that as well). In fact, here's all the things that you get when you buy this inflatable surfing stand up paddle board:
carrying and storage backpack
repair kit
detachable kayak seat
pressure gauge
hand pump
flexible fixed tri-fin setup for the board
stainless steel water bottle and carabiner that matches the SUP
bungee cargo system
Do note that this iSUP does not come with a paddle, so you'll need to purchase one of those separately (as well as a paddle leash, if you're interested in one of those).
I like that this iSUP is ultra durable and that you get added stability from it since you can actually pump it up to 14 PSI, which is a lot higher than most SUPs. It also has high pressure military spring valves, which means that inflation and deflation and slightly quicker than other inflatable stand up paddleboards that I've tried.
The surface has a EVA grip pad, so that means you don't have to worry about traction. It keeps you where you want to be and does so comfortably. It also has D-rings for easy storage of the water bottle, your paddle leash or other items.
Tower Adventurer 9'10″ Inflatable SUP
A few months ago, I reviewed the Tower Adventurer 9'10″ inflatable stand up paddle board and mentioned how much I love it. It is truly a great value iSUP that gives you a lot of great features and included items at a good price.
I don't want to repeat everything that I've already said about this iSUP, so I do suggest that you check out my original review on the site here. Like the Fisher Aria, this SUP from Tower Paddle Boards gives you a lot of versatility for the money.
It maneuvers well in waves, is great for recreational paddling and is even good for SUP yoga.
One thing to note, however, is that while the Tower Adventurer does come with a paddle, you will still need to purchase one for surfing. Why? Because although it is a decent paddle, it will rust in the salt water and it does NOT float, so you can easily lose it to the ocean floor.
Overall, this is a good, cheap option for iSUP surfing with the added bonus of versatility. If you are trying to decide between this model and the Fisher Aria, then consider the difference in the board length and the kayak options with the Aria to help come to a final decision on the best iSUP surfing board for your individual needs.
---
Please note that these models are by no means all of the SUPs that can be used for surfing. Instead, these are only the models that I, personally, have found that perform well in the waves.