Running, cycling, or any type of cardio just isn not the same without music, right?
Ever notice music seem to make the time exercising go by faster?
It also has the bonus of making it seem like less of a chore!
And it's not just you who feels this way!
There are actually legit scientific benefits to listening to music when you're working out.
Below we'll clue you in on those benefits and share some of awesome music you can sweat it out to during your next workout session.
What Makes The Best Workout Music
If you ask most people, including the Active Weekender team, you'll likely get the same response – fast paced music that gets you pumped up to sweat it out.
You never really hear about people with workout playlists full of ballads or classical music – and that's for good reason!
Studies have shown that high tempo music helps you keep up a good pace while working out. Plus, that type of music is just fun to listen to while getting fit.
Benefits Of Working Out With Music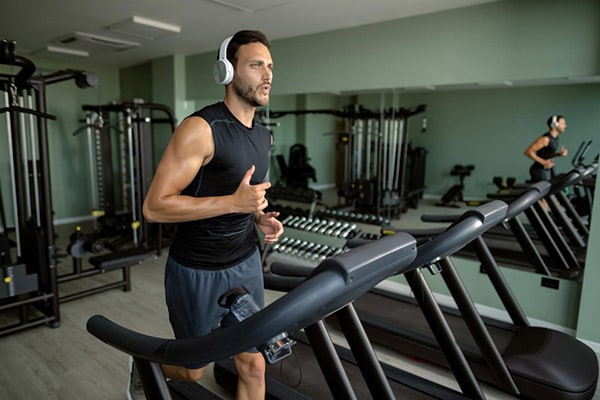 It's super common to see people working out with their Air Pods in, or with the music cranking in the gym – and there is a good reason for it!
Music and exercise go together like peanut butter and jelly.
So the next time you're ready to take out your frustrations on that heavy bag, pop on some music and enjoy the benefits listed below.
It's A Good Distraction
Probably my favorite thing about listening to music while working out is that it distracts me in the best possible way, because it reduces the amount of time I think about how much I don't want to be working out.
I find that running on the treadmill with music results in longer sessions.
According to Scientific American, listening to music while exercising help push you through any discomfort, reduces perceived effort, and really just distracts your brain from all the negative feelings you likely have about exercise.
Magical, right?
It Boosts Your Exertion
One of the coolest things that music does for your workouts is that it actually results in more exertion during your workouts.
Studies have shown that working out with music results in you going harder than when you exercise without music.
Part of the reason this happens is related to the fact it distract you by help you work through any discomfort, like pain and fatigue, and thus reducing perceived effort.
The type of music here also affects this with a study in the Journal of Sports Exercise Psychology noting that motivational music helps exercisers push through fatigue.
And what's really interesting is that you don't even notice that it is happening.
You'll run farther, bike longer and swim faster than usual – often without realizing it – all thanks to the tunes playing while you're getting fit.
According to an American Council on Exercise article, music can increase endurance during a workout up to 15 percent.
It Improves Your Motivation
Let's face it – we all know that we need to exercise regularly, but sometimes that motivation is just not there and we start asking ourselves 'how much do I really need to exercise?' in an attempt to slack off.
That's why you should listen to music when working out because it has been proven to boost your motivation.
A study in study published in Frontiers in Psychology noted this phenomenon due to the fact that the music first elevates your mood, which results in an improvement in self-awareness and motivation.
In fact, a study in Brain and Cognition found that "high-groove music" literally lights up the area of the brain that is responsible for movement literally making you want to move.
And yes, "high-groove music" is an actual scientific term referring to music with a higher beat salience.
So, when you're lacking motivation to workout, it's time to start cranking your favorite workout jams, even if it's just for dancing.
It Helps You Keep Pace
Plenty of studies on heart disease have shown that exercise with a natural rhythm or pace are ideal for heart health, and listening to music while working out helps you maintain pace.
This happens because the music causes you to synchronize your movements with the music.
This rhythm response helps your body be more efficient with energy while working out.
Studies have shown that the best tempo is between 120 and 140 beats per minute because this typically matches the average heart rate during a workout.
For that tempo, the music selections that fit are going to be most commercial dance music and many rock songs.
There is even an app/website, jog.fm, that helps you find the ideal music in this tempo for your workout.
Best Running Songs Ever (and Spinning, Cycling, + Other Cardio)
If you're looking got some good music to listen to while running, cycling, spinning, weight lifting, or any other exercise, then we've got some recommendations for you.
'Harder, Better, Faster, Stronger' by Daft Punk
'Bad Romance' by Lady Gaga
'Believer' by Imagine Dragons
'Womanizer' by Britney Spears
'Stronger' by Kanye West
'Can't Get You Out Of My Head' by Kylie Minogue
'Wake Me Up' by Avicii
'Poker Face' by Lady Gaga
'Paint it Black' by Rolling Stones
'Believe' by Cher
'Bad Moon Rising' by Creedence Clearwater Revival
'Lose Yourself' by Eminem
'On the Floor' by Jennifer Lopez
'Dog Days Are Over' by Florence and the Machine
'Livin' on a Prayer' by Bon Jovi
'Shake It Off' by Taylor Swift
'She Bop' by Cyndi Lauper
'Party Rock Anthem' by LMFAO
'Seven Nation Army' by White Stripes
'Just Dance' by Lady Gaga
'Uptown Funk' by Mark Ronson feat. Bruno Mars
'Hips Don't Lie' by Shakira feat. Wyclef Jean
'I Got A Feeling' by Black Eyed Peas
'Let's Get Loud' by Jennifer Lopez
'Hung Up' by Madonna
'Cake By The Ocean' by DNCE
'See You Again' by Miley Cyrus
'Rather Be' by Clean Bandit feat. Jess Glynne
'Take Me On The Floor' by The Veronicas
Final Word
As you can see, if you're not already listening to music when you exercise, then you really should start this habit.
Music not only helps to motivate you to actually workout on the regular, and stick with it once you start, but it also helps you work out harder and for longer during each session.
And if you're not sure where to start with your workout playlist, then check out our recommendations above as a starting point for some upbeat music that you can rock out to while you sweat.