If you're bringing your favorite Nalgene water bottle for a trail run or overnight trip, you might be wondering how durable it really is.
Can you put hot, boiling water into a plastic Nalgene bottle, for example, to make coffee? Will the plastic crack or be harmed?
Will that harm the bottle or get you sick with BPA?
We pondered the same thing, so we looked into it.
This page contains some affiliate links. If you click through and make a purchase, I'll earn a commission, at no additional cost to you. Read my full disclosure here.
Is It Safe To Put Boiling Water In A Nalgene?
Yes, it is safe to put boiling hot water in your plastic Nalgene water bottle.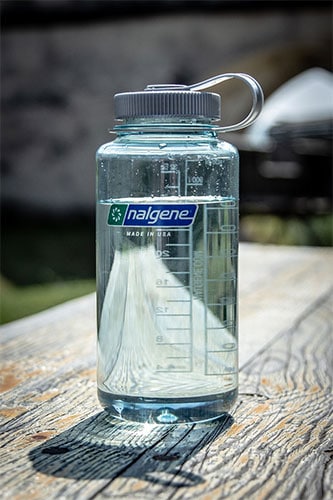 If you're my age, then you probably remember several years back when there was a lot of concern about plastics leaking BPA and other toxic chemicals into your food and drink. At the time, there was a school of thought that putting hot liquids in plastic and heating up the plastic (like in a microwave) was dangerous for your health.
As a result, many brands (including Nalgene) switched to a safer type of plastic that is free of BPA, BPS and phthalates back in 2008.
What does this mean for you?
You don't have to worry when you put boiling hot water into your Nalgene. It is safe to do so.
Will Boiling Water Damage Your Nalgene Bottle?
No, boiling water poured into your Nalgene does not damage it. In fact, the bottle is made to withstand the hot temperatures of just boiled water.
You can even put your Nalgene bottle into the dishwasher for cleaning because the high water temperature in there won't hurt it either.
So no, you don't have to worry about boiling water ruining your favorite Nalgene bottle. It won't break, shatter, or crack from the high temperatures.
And don't forget, your Nalgene bottle is made in the USA and guaranteed for life by Nalgene.
Will Boiling Water Release Toxic Chemicals from the Plastic?
No, boiling water does not release toxic chemicals from the plastic of your Nalgene water bottle.
As previously mentioned, Nalgene bottles are made from a safer type of plastic called Tritan plastic. Here's what you should know about Tritan plastics:
Tritan is a BPA-free plastic — it is not manufactured with bisphenol A (BPA) or other bisphenol compounds, such as bisphenol S (BPS).
Tritan is impact-resistant — products can be used without fear of shattering.
Tritan is tough — extending the useful life of water bottles and food containers, potentially reducing waste.
Tritan has exceptional dishwasher durability — encouraging proper sanitation for greater plastic container safety.
Tritan is much lighter than glass — making it easier to handle without the fear of breaking.
As you can see, the Tritan copolyester material your Nalgene bottle is made out of is free of BPA, BPS and phthalates. So you don't need to worry about toxic chemicals leaking into your drinking water.
Does Boiling Water In A Nalgene Actually Keep You Warm All Night?
Yes, you can stay warm in your tent on a cold night with a Nalgene bottle full of boiling water by your side.
For the best results, put that bottle full of boiling hot water into a wool sock. Not only will this keep the water warmer for a longer period, but it prevents any accidental burns on your skin if the bottle touches against you in your sleep.
We Recommend
If you're in the market for a new Nalgene bottle, then we suggest you check out the options at REI. They have several exclusive designs that we're big fans of here at Active Weekender.
Our staff pick is the REI Co-op Nalgene Peace Cactus Wide-Mouth Water Bottle.