Best Good, Cheap Road Bikes For Budget Cyclists (2017 – 2018)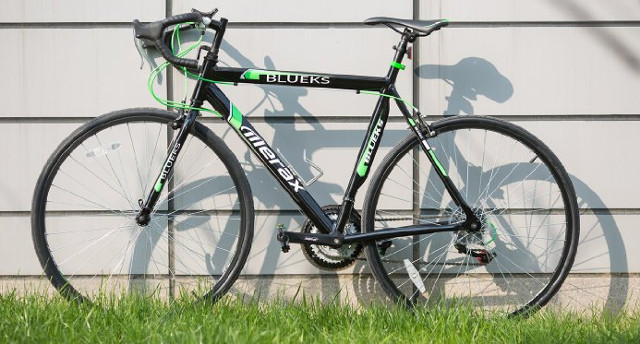 Whether you are just getting into road cycling as a beginner, or if you have been riding a road bike for a while, there are some good cheap options out there so that you do not have to spend a fortune on a quality road bike. Especially when online stores like Nashbar offer high quality bikes at cheap prices.
Click here – See our #1 editor-rated road bike for 2018
It can be easy to walk into a local bike shop and get overwhelmed by the sheer beauty of some of those bikes with price tags that are well over $1,000. Don't get me wrong – I don't mind spending money on gear that gets me outside and active, but I also like to do many different things outside. That means that I would rather get a low cost road bike that is good quality so that I can spend more on other activities. That why I prefer more budget-friendly bikes in the under $1000 price range since I'm not a serious cyclist. I also think this is the perfect price point for a good entry level bike.
Our Top 10 Featured Cheap Road Bikes
Where To Buy Top Road Bikes Under $1000 for 2017 – 2018
Regardless of what your reason is for shopping for budget road bikes, you can rest assured that there are plenty of great cheap road bikes out there for you to choose from. Just do yourself a favor and don't fall in love with one of those higher priced ones at a local bike shop! Good places to shop online include:
Our Cheap Road Bike Reviews
To help you with your search, and to show you options that help you stay on-budget, check out my reviews of these low-cost bicycles below.
1. Nashbar Flat Bar Road Bike
Active Weekender rating:
Ride:
(4.6 / 5) Quality: 
(4.7 / 5) Value: 
(4.6 / 5) Overall: 
(4.6 / 5)
Where to buy: Amazon or Nashbar (women's version also available here)

If you just want the basics from a well-built road bike that won't break the bank, then take a serious look at this affordable single speed bicycle from Nashbar.
Sure, it's not for the serious roadie, but if you're looking for speed and efficiency at an affordable price, then this just might be the best bike choice for you.
This is a great unisex road bike as it comes in six different frame sizes. That also makes it a good road bike for teens since there are smaller frames to accommodate their smaller body types.
I think this bike is best when used as a cheap commuter bike or just for the occasional weekend bike rider. You probably won't want this one if you're serious about cycling just because there are plenty of other models out there with better features in a similar price range.
Overall, this is a simple, minimalistic road bike that is a good single speed starter bike that will serve you well as a commuter bike or until you upgrade to a more high end road bike.
---
2. Vilano Shadow Road Bike
If you're looking for a good entry-level road bike that has a low price, then the Vilano Shadow is a good option. It's actually a fairly versatile bike as you can use it for getting fit, riding to your work or with the local bike club.
One of the noteworthy features of this model is that it has Shimano A070 STI brake lever integrated shifters. This gives you good shifting and precise braking at a low cost.
Personally, I love how lightweight this Vilano bike model is, thanks to the 6061 double butted aluminum frame. If you have to haul your bike onto a bus, train or vehicle a few times a day, then you will also love how lightweight this high quality road bike frame is when you lift it. Overall, the total weight for this baby is around 23 pounds.
You can order the Vilano Shadow in either a black frame or a white frame. You also have to pick the size of the frame that you want to order. Options are: small, medium and large. To help you determine which frame size is best for, look closer that the differences below.
Small frame is 50 cm, which is good for someone up to about 5-ft 4-in in height
Medium frame is 54 cm, which is good for someone up to about 5-ft 10-in in height
Large frame is 58 cm, which is good for someone over 5-ft 10-in in height
If you want to learn a little more about this great bike, then have a look at my Vilano Shadow aluminum road bicycle review here where I answer some questions you might have about this model.
November 2017 update: after 18 months, we have updated our ratings for this bike based on comparing it to other models that received better ratings from our editors. While we think this is still a decent bike for the money, we now only recommend it for absolute beginners on a low budget since we believe there are better options on the market (like the Nashbar bike above).
---
3. Tommaso Forcella Road Bike
Active Weekender rating:
Ride:
(4.7 / 5) Quality: 
(4.7 / 5) Value: 
(4.4 / 5) Overall: 
(4.6 / 5)
Where to buy: Amazon

One of the higher priced bikes on this list, the Tommaso Forcella road bike is an excellent choice for the dedicated roadie. Not only does this Italian-designed bike look great, but it rides even better!
This bike is Italian made and just oozes quality craftsmanship, which you can tell from all the high quality Shimano components. You get accurate and smooth shifting from the mounted Shimano Claris derailleurs and shifters. The ride is smooth and it even performance well on steep inclines thanks to the Shimano Claris triple crankset.
Overall, I think you will agree after one ride that this is the perfect choice for a smooth riding road bike at an affordable price. It looks awesome and is built to last you for many years. You definitely won't be disappointed if you give this Tommaso bike a try.
November 2017 update: Though we still really like this bike, we have lowered its rating based primarily on the price/value of the bike since it is one of the higher priced entry-level road bikes.
---
4. Retrospec AMOK V2 CycloCross SS Commuter Bike
Active Weekender rating:
Ride:
(4.7 / 5) Quality: 
(4.8 / 5) Value: 
(4.7 / 5) Overall: 
(4.7 / 5)
Where to buy: Amazon

So, technically this is a cyclocross bike, but don't you let that fact rule this one out of the running for your new road bike. First off, just look at it – doesn't it look awesome! It is truly a head-turning road bike, for sure.
It also comes in a black frame if you don't like the blue one.
In addition to looking good, this cheap Retrospec road bike also rides amazingly well. Seriously, the Retrospec Bicycles AMOK V2 CycloCross Convertible Single-Speed/Commuter Bike rides as well as bikes that cost twice as much.
While this ultra-light bike is designed to take a beating and keep on performing, it still makes a great commuting bike or weekend road riding bike. And if you decide to be more demanding of it later on, then you can take comfort in know that this bike will meet your every expectation.
The only negative thing that I can say about this bike is that it doesn't come with assembly instructions! Seriously! Now, if you've ever put a bike together before, then you should do okay with this one. Or, you can take it down to your local bike shop and pay them $60 or so to get it assembled and tuned-up for you. If you need some Retrospec road bike assembly instructions, I suggest checking out their owner's handbook here.
---
5. Vilano Aluminum Road Bike 21 Speed Shimano
Do you like the Vilano Shadow listed above but want to spend even less on a good beginner's road bike? Well then, look no further than this Vilano road bike model. It's one of my favorite options for a good starter road bike cause it is so freaking cheap and still a good quality bike.
As you can probably tell from the photo, this bike has a lot in common with the Vilano Shadow. But there are some differences.
The 6061 double butted aluminum frame is very lightweight at just 24 pounds; and makes this the perfect choice for a cheap commuter bike. The Shimano A050 SIS shifters are handlebar mounted and make shifting smooth and almost effortless. Of course, these aren't the best Shimano shifters out there, so you might wanna upgrade them at some point.
When you look at the specs on this bike, I think you will agree that it is a good entry level triathlon bike choice as well, especially since it weighs so little and rides smoothly. So, it's definitely worth considering for your first tri events.
I won't bore you with another list of specs since it's so similar to the Shadow. Overall, this one is a great bike that looks awesome when you're riding it. You really can't beat the value for the money on this one.
---
6. Giordano Libero 1.6 Men and Women's Road Bikes
If you prefer a road bike with a frame that is sized based on the build of your gender, then this model from Giordano Libero is a good choice.
For more details on the women's model, see my Giordano Libero 1.6 Women's Road Bike Review here.
For more details on the men's model, ready my Giordano Libero 1.6 Men's Bike Review here.
As you can see, then men's frame is red and white while the women's frame is pink and white. The other main difference between the two versions of this bike is the frame size. The women's models are a bit smaller, since women are generally not as tall as men. To give you an idea of what I'm talking about, check out the frame sizes below.
Men's frame sizes:
Small = 50cm/20" fits riders 5'1″-5'8″ with a stand over of 28″-30″
Medium = 56cm/22" fits riders 5'8″-6'0″ with a stand over of 30″-32″
Large = 61cm/25″ fits riders 6'2″-6'5″ with a stand over of 33″-35″
Women's frame sizes:
Small = 35cm/15" fits women 4' 7"-5'2″ with a stand over of 28"-29″
Medium = 41cm/17" fits riders 4'10"-5'5″ with a stand over of 29″-30″
Now that you know the differences between the different gendered versions, let's look at the features that they share in common, which makes this one of the best cheap road bike options for men and women in 2014 and 2015.
The Italian-inspired design of this road bike not only makes it look great, but it also is a great ride. The 6061 aluminum frame is incredibly lightweight, with the total weight coming in at about 23 pounds. This is a great weight for riding up steep hills and carrying down stairs or into a vehicle or on public transportation.
While this is a great value entry level road bike for cyclists, you do not have to be a novice to make this your bike of choice. It even performs great in competitions. You will definitely love the smooth ride and the low cost of this one.  This is actually one of the best road bikes under $500!
I'm a fan of the double water bottle mount, which is perfect for those long Sunday rides. It also comes in good use if you decide to enter any competitions in your area. The dual mount means less time stopping for water.
---
7. Merax 21 Speed 700C Aluminum Road Bike
Looking for a good road bike under $400? Cause I think I've found the perfect model for you with this cheap Merax road bike. This cool road bike is super lightweight and weighs in at maybe 27 pounds total. This is awesome for people who need to use their road bike for commuting and have to lift it onto public transportation.
The Shimano thumb shifters are easy to use and make shifting a smooth process. Personally, I love how the thumb shifters result in such quick shifting while riding.
This isn't a high end bike, so it does have all the fancy high-end components, and the seat can be uncomfortable after a long ride, but this thing is priced very low. Honestly, I'm surprised that a bike that looks and rides this good is available for less than 500 dollars.
I think that this is a good entry level road bike and as long as you remember that you aren't riding a high end model, then I think you will be very happen with this bike for some time to come.
Bottom line: this is a good, cheap starter bike, but if you can afford more then definitely get a better bike.
---
8. Vilano FORZA 3.0 Aluminum Carbon Road Bike
When it comes to cheap road bikes, I just can't get enough of the Vilano brand. They make a lot of low-priced models that perform well, and this FORZA 3.0 is no exception. This bike features a lot of high quality components, but the price is actually very affordable when you buy online.
You'll get a nice, smooth ride on this one thanks to the carbon fiber front fork. Shifters and brakes are responsive and perform well. Probably my biggest complaint about this one is the seat – feels like you're sitting on a concrete slab! I also noticed that the pedal are a bit on the heavy side. So, you might want to leave room in the budget to upgrade those two components for the perfect road bike.
Some of the nicer components include a Shimano Claris 3 speed front derailleur, Shimano Sora 8 speed rear derailleur and Shimano Claris STI shifters.
All things considered, this is a pretty good road bike for the money. Sure, it's more expensive than the other Vilano models on this list but cheaper than some of the other brands.
November 2017 update: after 18 months, we have updated our ratings for this bike based on comparing it to other models that received better ratings from our editors. While we think this is still a decent bike for the money, we now only recommend it for beginners on a low budget since we believe there are better options on the market.
---
9. Diamondback Airen Women's Road Bike
If you want to spend a little more for your new bike, but still stay under $1000 for the base model, then this Diamondback women's model bike is a good choice for women riders. (editor note: review below based on 2015 model)
While I enjoy the women's Giordano Libero 1.6, this Diamondback model is really a nice upgrade for only a few hundred more bucks. And if you're serious about your new bicycle, this is definitely worth the small extra cost over the Giordano Libero 1.6 women's road bike.
Since I was not a fan of the pink on the Giordano Libero 1.6, I do love that this bike is black with a bit of purple in the 2014 model.
The lightweight frame on this Diamondback Airen Women's Road Bike with 700c Wheels is a dream for riders like me. It features a fully butted 7005 alloy with a formed top tube and an integrated headtube with an integrated headset and a performance carbon fork with an alloy steer tube. Sexy, eh?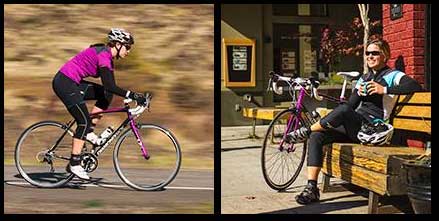 If you were to ride this bike after one of the cheaper options, then I think you would immediately notice that this one handles with a nice quick responsiveness. You can really trust this bike as it feels like you are in complete control on it.
Whether you want to use it for commuting or an an endurance bike or something else, you will love the smooth ride that get from this women's road bike for under $1000. And your arms and hands will enjoy that vibrations are reduced on this bike thanks to the feature – DBR Airen Performance Alloy Fork w/ Alloy Steerer – is it great for dampening road vibrations when cycling.
This bike is designed to fit the smaller frame of a woman and is available in five different sizes. To help determine which size you'll need, refer to the list below.
XXS is 48 cm
XS is 50 cm
Small is 52 cm
Medium is 54 cm
Large is 56 cm
Bottom line – Diamondback is a pretty solid brand and this bike offers a pretty good value for the money, though it is certainly not the best option we've reviewed here.
---
10. Schwinn Phocus 1600 Men and Women's Road Bikes
Though they are not the bike brand that they used to be, this Schwinn road bike model is still a pretty decent choice for a bike rider on a budget.The same model comes in both a men's frame and a women's frame, which makes it a good choice for each family member.
I like that this bike rides well and features high quality components like the SR Suntour alloy crank and the full Shimano 14 speed drivetrain. And those high profile alloy rims look pretty sweet, huh? As expected the frame is very lightweight at just 23 pounds.
Overall, I think you definitely cannot go wrong with this as a good starter bike. Is it the best one on this list or my favorite model listed here? No. But, it's still a decent bike that is a great choice for anyone considering buying a new entry level road bike this summer.
---
Click Here For Best Selling Road Bikes at Amazon
When you are ready to order your bike, know that getting it from an online shop means that will arrive at your home in a box and need some assembly. Normally, this takes no more than a half hour, usually less, to get it all together. There are a few manufacturers who seem to forget to actually include instructions in the box, so be prepared for that in advance.
I think it's also worth mentioning that you need to be ready to inspect each piece when it arrives as some of the shipping companies out there are really rough with the boxes. It is not uncommon to hear about a cyclist getting a bike that arrives with the box damaged and some scratches on the frame. If there is damage to the bike, then you might have to return it for a replacement frame. For that reason, you might just want to keep a bicycle that arrives with some minor cosmetic damage, such as a scratch on the frame. But if any of the components are damaged in transit, then it will not be safe for you to keep the bike.
Once you get your new ride all setup and put together, then you should take it over to your local bike shop to get a tune-up for it. Really resist the urge to just get on the cycle and go for a ride once you get it together. You need the tune-up in order to get the best performance from the bike and prevent any accidental damage. This is a pretty cheap thing to do in most areas, as prices for it do vary. It definitely should not cost you over $100 and will only take a few minutes of your time. Plus, it is a good idea to get acquainted with the people at your local bike shop since you might need to periodically pop in for supplies and future tune-ups. You can even buy your bike direct from them if you want, just know that in most cases the cost will be a little more expensive at a shop compared to ordering it online and having it shipped right to your door.
And finally, safety is something that should not be overlooked when getting on bike of any type. Sure, you might just be planning on using it for a bit of leisure riding, but anything can happen. And if some freak accident catapults you off the bike and into a tree or mailbox, something as simple as a bike helmet can prevent some serious damage to your head. If you're new to biking, then you might think that wearing one makes you look goofy, but you'll look even more goofy with loads of bandages on your head after you get thrown off the bike in a crazy accident. And don't forget the reflective vests and lights if you're going to be riding out after dark. Be safe out there and keep pedaling!