As an avid hiker who lives in Las Vegas, I'm a big fan of hiking sandals when the weather is hot and the terrain isn't too treacherous.
While my go-to pair of hiking sandals are a pair of Keens, I also own a pair of Tevas and used to own a pair of Chacos. So, you can say that I've worn all the best hiking sandal brands out on the trails and at the beach.
If you're shopping for a new pair of hiking sandals and trying to decide between the Teva and Chaco brands, then I can help you out with the comparison below.
If you just want to know what my favorite Chaco and Teva sandals are, check them out below.
PHOTO
SANDALS
NOTES

Best Chaco Sandals

Best Chaco Sandals

Podiatrist-certified Luvseat polyurethane footbeds deliver all-day comfort and support

Best Price at REI

Best Teva Sandals

Best Teva Sandals

Molded polyurethane midsoles cushion and support, mile after mile

Best Price at REI
This page contains some affiliate links. If you click through and make a purchase, I'll earn a commission, at no additional cost to you. Read my full disclosure here.
Comparing The Feel and Fit
Probably the most important thing to consider is which brand just fits your foot better and gives you a better feel when you're wearing them. Obviously, this is a very personal thing, but I can break down some of the basics that I've noticed to give you an idea of what to expect from each brand.
After wearing both pairs of sandals, I have to say that for me the Chacos are definitely a more comfortable fit and feel. But note, that the break-in period for these is brutally painful. They definitely have more arch support, which is essential for me because I have flat feet. I also noticed that the footbed on the Tevas is a lot thinner than that of the Chacos, so I was feeling more rocks and trees roots when I was wearing the Tevas. However, the Tevas do have a softer footbed where the Chacos are more rigid.
You should also know that putting on the Chacos is a bit of a process. I mean, it's not that long of a process, but definitely not as quick as with the Tevas. With the Chacos, you have to spend some time adjusting the straps so that you get that just right perfect fit before you leave the house. While this means you get a better fit and feel, it is also more time consuming. So, say you're on a river kayaking trip, well you might want something that is quicker to get on so you can hit the water sooner.
One of the things that I HATE about the Tevas is that if your feet get wet, then they slip around in the sandals. You don't have to worry about this with the Chacos because they have an anti-slip footbed.
One of the things that I HATE about Chaco sandals is that it seems to take a long time to break them in. For me, I experience around a month of wear before they really feel properly broken-in and I'm at my ultimate in comfort. But with my Teva sandals, it only took about a week for me to feel like they were good and broken in.
If you prefer a more lightweight sandal for backpacking or other purposes, then you should know that the Chacos are definitely heavier. This should come as no surprise since they have a thicker footbed/sole than the Tevas. So, this also means that a pair of Tevas will take up less space in your pack (if you're not wearing them when you set out backpacking).
Fit and Feel Summary
Chacos have better arch support.
Tevas have a thinner but softer footbed.
Chacos have straps that take a lot of adjustment to get the perfect fit.
Tevas are definitely more lightweight.
Chacos have an anti-slip footbed, which is great for wet feet.
Tevas break-in quicker than the Chacos.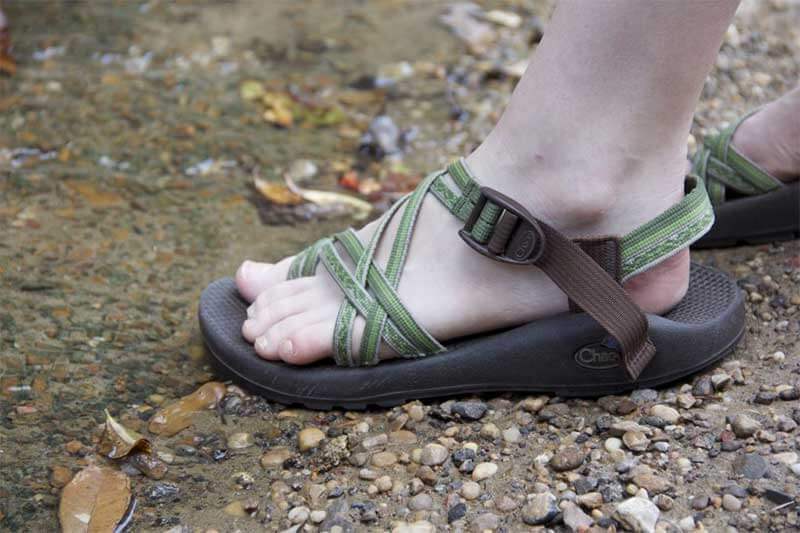 How Does The Durability Compare?
I think it goes with out saying that both Teva and Chaco are high quality outdoor footwear brands. And honestly, either brand is a great purchase from the quality and durability stand point.
That being said, there are a few things you should think about here. Since the Tevas use velcro straps, those can wear out over time. If you've ever owned anything with velcro then you know that over time is gets sort of fuzzy and stops sticking as good as it used to.
And if you're the sort of person who wears a pair of shoes until they fall apart, then remember that the Tevas have a thinner sole, which means they will be the first to wear out.
Durability Summary
Both are great, but over time the velcro and sole of the Tevas may wear out before the Chacos do.
Comparing The Cost
High quality footwear is never cheap, and good outdoor sandals like these are no exception. Generally speaking, it seems that Chaco sandals tend to have a higher price than Teva sandals.
That being said, if you're not in a hurry to get a pair you can probably end up getting a great sale price at some point during the year. I actually got my Chaco sandals at a great sale price at REI – and they often are discounted at the end of the season. I paid full price for my Tevas, which made both my Chaco and Teva sandals around the same price.
If you want the best deal on a pair of these, I suggest becoming an REI member so that you earn money back on your purchases and watch for a sale, a 20% member discount coupon (there may be one right now!), or check the REI Outlet online store for a deal.
Cost Summary
MSRP generally has Chaco with a higher cost, but sales and offers at REI can lower the price of both brands
PHOTO
SANDALS
NOTES

Best Chaco Sandals

Best Chaco Sandals

Podiatrist-certified Luvseat polyurethane footbeds deliver all-day comfort and support

Best Price at REI

Best Teva Sandals

Best Teva Sandals

Molded polyurethane midsoles cushion and support, mile after mile

Best Price at REI
Chacos Sandals Reviews
As you can see above, Chacos have a lot of benefits for outdoor enthusiasts. That being said, they're not really my favorite option out there but I do prefer them over Tevas. Let's look at some of the reasons why.
Are Chacos sandals waterproof? Well, there is a lot of confusion over this since the straps absorb water, so let's clear up things by defining what we mean here:
waterproof means it's totally cool to get the shoes completely wet and it it will be fine.
water-resistant means that a little water, like some rain, is fine but you don't want to submerge them in water.
So, while the Chacos website doesn't specifically say that their sandals are waterproof, my experience leads me to say that yes, Chacos are waterproof! (even though the straps do absorb water, they dry quickly)
My brother basically lives in his (kayaking, at the beach, walking in the rain, etc.) and they are holding up just fine. So, if you're wondering, are Chacos comfortable? Yes, they are – they have great arch support and a comfortable footbed.
If you were to ask me – how long do Chacos last? – then I'd have to say a damn long time! My brother has been wearing the same pair almost daily nine months out of the year and he's had them for going on five years now. In fact, Chaco sandals are built to last and designed to be repaired when needed. You just contact Chaco to get those sandals repaired.
Since they are not made of Velcro straps, Chacos are great for wearing at the beach since the sand isn't a problem.
Are Chacos Good For Hiking?
Yes, for sure, especially if you are going to be crossing some streams or otherwise getting your feet wet. While my brother swears by them, even for long hikes since they have great arch support, I do feel that something with more toe coverage is a better choice for longer hikes.
What About The ChacoGrip vs Vibram?
If you know anything about older versions of Chacos, then you know that they used to have a Vibram sole. But, they moved away from that to their own proprietary ChacoGrip sole.
While Chaco Grip is good and offers nice traction out on the trail, it just doesn't quite live up to the Vibram sole.
Are Chacos True To Size?
It's true that you cannot buy Chacos in half-sizes cause they don't make them. However, my experience leads me to believe that they fit well and typically a bit large. That's right, I think that Chacos run big, so if your foot is a half-size, just buy your Chacos down a half-size. So, if you're a 8.5, then go with a size 8.
Overall these tend to fit everyone well that I've talked to. I think this is due to the fact that the straps are ultra adjustable, so they will fit pretty much any foot.
Are Chacos Worth It?
Without a doubt, a pair of Chacos is worth every cent you spend on them. That being said, I do prefer KEEN sandals, so I'd rather wear those. But buying Chacos are still worth it if you don't like KEENs or just want something ultra lightweight.
Why Are Chacos So Popular?
If you're new to the Chaco brand, then you might be wondering if these are truly great sandals or just a passing fad. The fact is that these are not the most attractive outdoor shoes on the market. Some people even think that they are downright ugly.
That being said, they are comfortable and lightweight, which are both important to hikers, backpackers, and campers.
I think they just started out a popular amongst members of the outdoor community and it just grew and spread from there.
What About Sandals That Look Like Chacos But Cheaper?
Honestly, I haven't tried any of the knock-offs or lookalikes, but when you buy Chacos you are paying for that brand quality and support. So, don't expect to buy the Target brand or Skechers knock-offs and have the same comfort and quality. Fake Chaco sandals are not a good idea.
Also, you can usually get a good price on Chacos at REI. But even if they're not on-sale at REI, by signing up as a member you can earn money back on your purchase.
Teva Sandals Reviews
The first time I bought a pair of Tevas was on a trip to Hawaii where I'd forgotten to pack my sandals. I walked into a store off Waikiki Beach and out of there with my first pair of the sandals.
My first impression was, wow, Teva sandals run big! I have a pretty large foot for a woman (size 11) and they did not have my size in the store. But a smaller size off the rack totally fit, which surprised the hell out of me. The sales associate told me to try them cause Teva sandals run large, and man was he right!
So, if you're wondering do Tevas run big? Yes, yes they do. At least in my experience!
Overall, I find Tevas to be relatively comfortable, though there is not enough arch support for my flat feet. I also slip around a lot in the footbed whenever I get my feet wet, which isn't ideal for a water sandal.
Are Tevas Waterproof?
Yes, the Teva website says that all of their shoes are waterproof. So, go ahead and jump in that stream or wade into the river with your kayak cause your Tevas will be totally fine.
How Should Tevas Fit?
Like Chacos, you cannot get your Teva sandals in a half size. And since they do run large, you'll definitely want to go down a size if you're normally a half size – and maybe even down a whole size and a half.
In my experience, they are pretty comfortable right from the start but they are lacking in good arch support. For the best fit in a pair of Teva sandals,
Open up all the Velcro straps.
Slide your foot in and place your arch over the arch support area of the shoe.
Then, tighten the ankle strap first.
Adjust the heel so that it cups it just right.
If you notice your toes are too close to the edge, then you have over-tightened the heel and need to readjust it.
Walk on, cause you should have a comfortable fit now!
Verdict
Now that I've told you about my experience with these two brands, I hope that you are better able to make a decision for yourself.
As for me, here's my preference:
For hiking or any activity where my feet get wet, I prefer to wear Chacos over Tevas.
For camping or every day casual activities, I prefer the Tevas over Chacos.
Obviously, I think you can't go wrong with either brand, so pick the one that best meets your outdoor adventure needs.