OrangeTheory Fitness is a gym that often comes highly recommended for those seeking result-oriented training from their on-site fitness instructors.
Their workouts are supposed to yield rapid results, regardless of your fitness level, particularly when we're talking about weight loss and calorie burn.
With a solid reputation backed by numerous positive reviews, it's evident that these gyms consistently deliver great results and services.
A standout feature of OrangeTheory is its extensive network of over 1,400 fitness clubs across the United States.
This opens up countless opportunities to find a nearby club, regardless of where you live.
Not sure if Orange Theory Fitness is worth the money though? We got you.
Is OrangeTheory a Good Gym?
As experienced gym-goers, we don't always need much guidance from trainers.
However, at Orange Theory Fitness, trainers are very hands-on and actively help members.
This can be especially beneficial for beginners who require more support and motivation.
The high-energy fitness instructors even make the experience worthwhile for seasoned athletes.
The most significant difference between OrangeTheory and traditional gyms lies in their training approach, which isn't just about proper form.
Focusing on 1-hour workouts and fitness classes that leverage the after-burn effect, or EPOC (Excess Post-Exercise Oxygen Consumption), members can maximize calorie burning.
Orange Theory employs high-intensity exercise workouts that create an "oxygen debt" in our bodies, causing us to burn calories even after we stop exercising.
Although we can't give a comprehensive analysis of all the Orange Theory fitness classes, they received many positive reviews from class participants.
For example, a fellow gym member lost over 10 pounds after attending around 40 weekend classes, showing impressive results from the exercise routine.
Ultimately, OrangeTheory stands out with its welcoming atmosphere, a wide range of classes, class packs and training programs, science-backed workouts, world class instructors, and professional setting.
Although it may be more expensive compared to other gyms, the extra cost of Orange Theory is often viewed as motivation to exercise and stay committed to a workout routine.
Does OrangeTheory Have Good Equipment?
If it's all about the machines and equipment at the gym for us, we wouldn't be disappointed with what Orange Theory offers.
Although it primarily focuses on heart-rate-based interval training with routines divided into rowing, cardio, and strength training, there is still a decent variety of equipment available.
Cardio workouts can be done on treadmills, ellipticals, exercise bikes, rowing machine, and stepper machines at Orange Theory.
For strength training, you can switch between a suspension trainer, medicine balls, dumbbell sets of varying weights, BOSU balance trainers, and a few awesome strength training tools and equipment.
Regardless of the location you end up at, most OrangeTheory Fitness studio setups are similar.
In addition to the traditional fitness machines, Orange Theory gyms also have heart rate monitors you can use for keeping track of intensity levels during workouts.
However, some Orange Theory studios might require members to purchase their own monitors. Personally, I just use an Apple Watch for this.
What Classes Does OrangeTheory Offer?
Not sure what types of fitness classes are on offer at your local Orange Theory Fitness gym? It's pretty much the same at every location.
You can check them out on a class to class basis, or opt for unlimited classes.
Dual Group 60-Minute Sessions
In these classes, they've got two groups that switch between strength training, rowing, and cardio exercises.
The way it works is that you start on the treadmill with some jogging at your base pace before moving on to the strength training section.
Essentially the groups switch off between the cardio treadmill portion and the strength portion instead of staying on one the entire time.
Triple Group 60-Minute Sessions
After you've some of the dual group classes, it's time to try out one of triple group sessions.
The key difference here is having three groups instead of two, with similar exercises and strength training routines.
Only the most experienced coaches at Orange Theory oversee these triple group sessions with the strength portion and treadmill portion.
Focused Lifting for 45 Minutes
Lift 45 is perfect for those who prefer less crowded class size and who wanna focus on muscle building and strength exercises.
As the name suggests, in this class you just spend 45 minutes doing weightlifting exercises.
This means zero cardio or other types of training here, just all weight lifting for the full 45 minutes.
Run and Row Combo
Run/Row is a supplementary, cardio-focused workout that allows lets you both both running and rowing in a 50/50 switch up for a total of 30 minutes.
It works out to 15 minutes of treadmill running and 15 minutes on the rowing machine.
This is a great option for anyone who is short on time or looking to mix it up with another class, such as Lift 45.
In some locations, you'll also find additional options like 90-minute triple group sessions or 45-minute dual/triple group classes, catering to various workout preferences.
| Class Type | Duration | Focus |
| --- | --- | --- |
| Dual Group 60-Minute | 60 min | Cardio, Strength, Row |
| Triple Group 60-Minute | 60 min | Cardio, Strength, Row |
| Focused Lifting (Lift 45) | 45 min | Weightlifting |
| Run and Row Combo | 30 min | Running, Rowing |
Amenities at OrangeTheory Fitness
As a group fitness studio, Orange Theory Fitness doesn't really have all the extra amenities found in high-end gyms like Equinox or Lifetime Fitness.
What they do offer is an environment designed to enhance your training experience and track your progress.
Here's a quick rundown of the amenities you'll see at Orange Theory:
State-of-the-art heart-rate monitoring technology
Showers and locker rooms
Retail stores with branded merchandise and OrangeTheory products, like heart rate monitors
While some might prefer gyms with more comprehensive offerings, such as swimming pools or racquetball courts, here the focus is on results-based workouts.
It's all about eliminating distractions and creating space for members to hone in on their fitness goals and make tangible progress.
So, don't expect a wide variety of extra amenities at OrangeTheory Fitness.
Does OrangeTheory Have On-Site Child Care?
Unfortunately, Orangetheory Fitness doesn't provide childcare services in their gym locations.
Having a dedicated area for kids would mean decreasing the workout area, making it less comfortable for larger groups to exercise.
Pros And Cons Of OrangeTheory Fitness
Still not sure if Orange Theory is the right gym for you? Let's break down the pros and cons of a membership here.
What We Like About OrangeTheory Fitness
With over 1,400 locations in the US, it's easy to find an OrangeTheory Fitness nearby.
It's a welcoming space that encourages group workouts, making it great for friend groups or families.
Workouts are tailored according to each person's needs.
Their heart-rate monitors help track intensity levels and progress.
Monthly challenges and rewards are offered to boost motivation.
A wide range of workouts keep things interesting and prevents boredom.
Their workouts aim to deliver noticeable results.
What We Don't Like About OrangeTheory Fitness
It may be more expensive compared to other gyms for a monthly membership.
It lacks extra amenities like pools, saunas, and tanning beds.
Canceling a class can be a hassle, requiring 8 hours' notice beforehand.
A strong focus on data might be discouraging for some gym-goers.
Classes can sometimes be overcrowded.
The intensity of workouts might not suit everyone at the same pace.
How Much Does A Membership At OrangeTheory Cost?
We've got you covered on the various membership options at OrangeTheory.
Prices can vary based on location but typically, you'll find the following:
Basic Membership: For folks just starting out, this plan costs around $65-$70 per month.
Elite Membership: A little more serious about your fitness? This package is roughly $100 per month.
Premier Membership: For the dedicated gym-goers, expect to pay around $160 per month.
Remember, first-timers get a free class!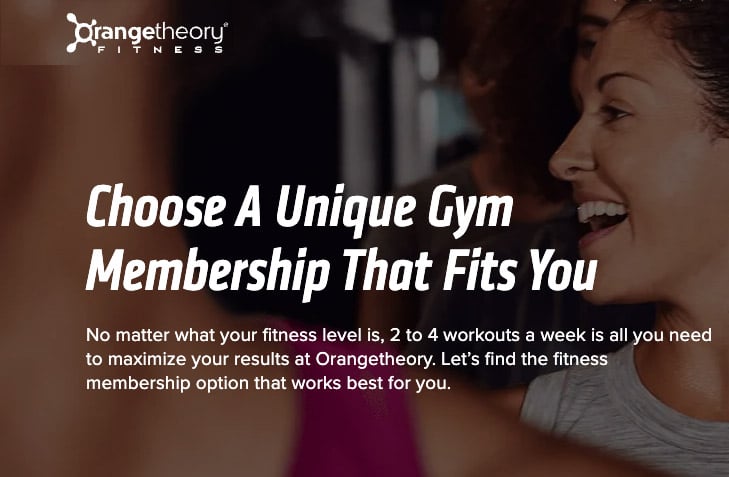 Don't want to commit just yet? No worries, guest passes can be purchased, but they'll cost a bit more.
Check out OrangeTheory's website or your local studio for all the deets on membership costs and options.
What Comes With An OrangeTheory Membership?
Depending on the plan chosen, OrangeTheory memberships can include a variety of perks.
With a premium $160/month membership, you'll enjoy benefits like signing up for multiple classes on the same day, unlimited access to OrangeTheory Fitness studios nationwide, and more.
Keep in mind, though, that the specific perks can vary across locations.
We recommend reaching out to your local studio or their helpline to confirm what's included before committing to a membership.
Which OrangeTheory Membership Is The Best?
We know it's essential to pick the right membership to make the most of your hard-earned money at OrangeTheory.
After all, it's not exactly budget-friendly.
For those who are dedicated to getting in a regular workout and honestly plan to hit the gym regularly, we recommend going for the elite package.
This gives you access to all studios nationwide (minus those premium spots with extra fees) and makes your workout experience super convenient.
If you're just looking to dip your toes in the OrangeTheory waters, consider grabbing some guest passes to get a feel for their routine.
Does OrangeTheory Have Hidden Fees?
Nah, we can confidently say OrangeTheory doesn't really have "hidden fees."
Their official policy lays it all out. When you sign up, there's an initiation fee, which might go up to $100.
Of course, the best time if year to join and avoid a costly initiation fee is the start of the new year.
Also, watch out for late cancellation fees at OrangeTheory Fitness. If you skip a class or let them know too late about your absence before the class time, they'll charge you for it.
But overall, we find everything's disclosed in advance here, so no need to worry about sneaky costs.
Is OrangeTheory Worth It?
We've been attending OrangeTheory for quite some time and, honestly, it's completely worth it.
Before joining OrangeTheory, we felt stuck in a repetitive routine and lacked motivation. Since joining, that's never been an issue.
There's always something worth doing in terms of fitness routines at OrangeTheory.
From our experience and the testimonies of fellow members, OrangeTheory is effective in producing results and helping people get fit with science-backed routines.
However, a potential drawback is the lack of extra amenities like swimming pools, saunas, hydromassage beds, tanning, and so on.
This can be a deal-breaker for some since many commercial gyms offer such facilities.
So, if you're into a more comprehensive gym experience, OrangeTheory might not be the best choice.
But if your priority is getting fit and working out, we'd say OrangeTheory is definitely worth it.